Halo one of injured strays who get little care

Photo
Kim Best, a volunteer with For the Dogs Animal Rescue, visits Halo. The young shepherd mix was hit by a car and ended up in the Mahoning County Dog Pound with severe injuries. For the Dogs got treatment for her at a local veterinarian's office.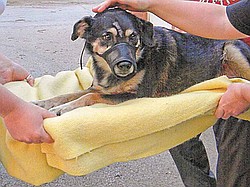 Photo
Halo is given medical attention. She was treated the night of May 31 after being hit by a car about 24 hours earlier.
By Jeanne Starmack
YOUNGSTOWN
Before she was Halo, the 2- to 3-year-old, 45-pound shepherd mix was just another badly injured stray dog on the side of the road.
The people who found her, around 9:30 p.m. May 30, wanted to do something to help her.
If they'd found her in Trumbull County, they could have called police, and the dispatch center would have sent out an emergency team from the Animal Welfare League.
The dog would have been picked up and would have gotten emergency care at a local veterinarian's, said Debbie Agostinelli, the league's shelter director.
"We've been doing that for 30 years," said Agostinelli, adding that the league is funded solely on donations and fundraisers.
But the good Samaritans who tried to help the little shepherd mix found her on River Road in Lowellville, Mahoning County.
In Mahoning County, many roads for injured strays seem to lead to the dog pound — where they get no medical care.
Animal Charity, which is the only humane organization in Mahoning County, focuses mostly on abuse cases, said its office manager, Talia Musolino.
Animal Charity also is a vet clinic, and will euthanize badly injured dogs in some cases, she said.
If the animal is hurt but not at the point it should be euthanized, however, "we have to send them in another direction," she said.
That direction could be toward a rescue group such as the no-kill shelter Angels for Animals, she said. Or, they'll go to the dog pound, where a group called For the Dogs Animal Rescue, run on donations and with a focus on only Mahoning County Dog Pound dogs, likely will find them and get them vet care.
The people who found the shepherd mix decided on a different option. They called the After Hours Emergency Clinic in Girard, and here is what they were told:
They could bring her in, pay a $100 emergency fee and take financial responsibility for her vet care. Or, they could bring her in and leave her. The clinic would give her basic first aid and pain medicine, then it would turn her over to the dog pound. One of the women who found the dog said her friend was interested in keeping her. They asked the clinic if they could get onto a payment plan, and they were told 'no.' They chose to leave her.
She was turned over to the pound in the morning, where she stayed in a crate in the garage in 90-degree heat with severe injuries and open wounds "down to the bone", said Kim Best, who worked with For the Dogs to get her out of the pound to a local vet's office for treatment.
When that occurred, around 8 p.m. May 31, the dog's wounds were still full of gravel and she had road rash. At a local vet, she was diagnosed with a broken pelvis and a shattered pubic bone.
She spent a week at that vet, was given the name Halo and was kept on pain medication and antibiotics to fight the infections that eventually took over her wounds.
She was discharged Sunday and is in a foster home right now, Best said Tuesday. She has been able to stand and walk on her own a little. She likely will go to a specialist for a consultation on an operation.
Money, or lack of it, is the reason Halo came to spend an entire day in a crate in the dog pound, with no medical care despite severe injuries.
Dr. James Milligan, who owns the after-hours clinic, said the clinic's policy is to give people the option of paying for care for a stray dog. If they don't, the clinic gives basic first aid and pain medication. Then the clinic calls the appropriate public agency to come and pick up the dog, he said.
"This is a private vet clinic" he said. There's no government support."
Milligan said there are no free-care funds to support injured strays, adding that he believes there was such a fund "years ago." But such a fund would quickly become depleted as a severely injured animal receives thousands of dollars worth of vet care, he said.
"Individual hospitals can't bear the costs because of the large number of stray animals," he said.
He also said vet offices typically don't offer payment plans because they can't carry the accounts. A plan called Care Credit is available with no-interest loans for six months, and it can be accessed in an emergency, he said. But an applicant has to qualify.
Best, who said she saw Halo's wounds first-hand at the pound, disputed that the clinic even gave first aid.
Milligan acknowledged that staff would have needed to anesthetize her to treat her wounds because she was in pain and trying to bite them.
Why not anesthetize?
It becomes a matter of cost and time, he said, adding that's also the reason the dog did not get antibiotics.
"At what point do we draw the line at what we do?" he said. He said the dog was given pain medicine.
When she arrived at the dog pound, Halo was indeed placed in an area that was not air-conditioned, said Matt Ditchey, Mahoning County dog warden.
He said, though, that there were fans on her cage.
Severely injured dogs that come into the pound don't have a lot of options, he said.
"Generally, it would have to be euthanized," he said, with priority given to the healthy dogs that are available for adoption at the pound.
"What do you do?" he said. "If you can save six or seven healthy dogs as opposed to one that's been injured ..."
He said For the Dogs uses private donations to get vet care for injured dogs it pulls from the pound.
"Thank God for these people," he said.
But For the Dogs is limited, too, in what it can do, said Best.
Milligan wondered why the group doesn't work with vet clinics to take care of injured dogs before they end up in the pound.
"We can't financially take in every stray animal," Best said. "We get dogs as we can out of the pound."
Halo was one of those lucky ones. She is "extremely sweet," said Best, "laying there and giving kisses" even while she was in extreme distress.
For the Dogs is hoping to raise money to pay for the care she has already had and the care she will need. To donate, make checks payable to For the Dogs, P.O. Box 3060, Youngstown, Ohio, 44511.
The organization also is in need of foster and permanent homes for its dogs, she said. For more information, call 330-565-0828.