Harding's Class of 2011 eager to begin new journey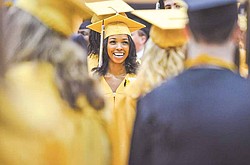 Photo
Warren G. Harding High School senior Mariah Brown waits along with her Class of 2011 classmates as they file into the high school gymnasium for commencement exercises Tuesday evening.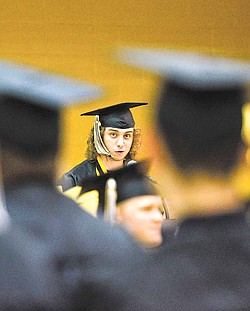 Photo
Valedictorian Kaleb Karkow addresses his classmates.
HARDING HIGH
Class of 2011
Number of graduates: 281
Valedictorian: Kaleb Karkow
Salutatorian: Alex Polenick
Class motto: "Live hard, laugh often, love much"
Class colors: Gold and black
Class flower: White rose
Class song: "Forever Young"
Class of 2011 eager to begin new journey
By Jordan Cohen
WARREN
Amber Russell may have captured the spirit of Warren G. Harding High's Class of 2011.
"I'll miss high school, but I'm on to conquer the rest of the world," said the 18-year old graduate as she raised her arms in triumph.
Russell, who plans to study mechanical engineering at Youngstown State University, was one of 281 seniors awarded diplomas in a commencement program that filled the high school gymnasium to capacity Tuesday evening.
"I'll miss it too, but I'm happy to get out of here," said a smiling Jaylon Johnson, 17, who also will be attending YSU to study business management.
The graduating seniors, girls in gold gowns and the boys in black, responded enthusiastically as interim Superintendent Loree Richardson praised their scholastic performance.
"You persevered and you made it to this point — what an accomplishment," Richardson said. "Now what you do with your life and your special talents is up to you."
The significance is not lost on the graduates, some of whom see it as the first step into what a few referred to as real life.
"I'm excited to move into the adult world," said Delorian Murray, 18, who will be studying nursing at the University of Akron.
"Our lives ahead will be shaped by our individual hopes and desires," said valedictorian Kaleb Karkow in his commencement address.
Diane Mboyo said her experience at Harding has been a revelation. She is an exchange student from Belgium who spent her senior year at Harding. She will be returning to Belgium in two weeks.
"Here you have a relationship with the teachers and it's almost like a friendship, but it's different in Europe," Mboyo said. "Over there, teachers are distant." Mboyo, who said she prefers the American student-teacher relationship, hopes to study international cooperation when she returns home.
Tuesday's commencement followed by a few hours the announcement by the board of education that Bruce Thomas, Marietta schools superintendent, is the leading candidate for the Warren superintendent position. Richardson has been interim superintendent since the resignation of Kathryn Hellweg in February.