Police dog's death being investigated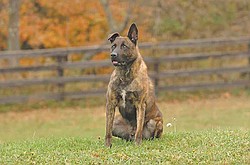 Photo
Chico, a Dutch shepherd, trained to serve as a police dog by Tri-State Canine Services of Trumbull County for the city of New Castle. The dog died Saturday after being left in a cruiser for two hours in 90-degree temperatures.
By Jordan Cohen
NEW CASTLE, Pa.
Police have launched an internal investigation after the death of Chico, one of its drug and patrol dogs.
According to a source close to the investigation, the dog died Saturday after being left in a cruiser for two hours. According to the Pittsburgh office of the National Weather Service, temperatures in New Castle on Saturday reached a high of 90 degrees.
There was no indication in a police press release whether the car was left running or if the air conditioner was on.
Veterinarian Charlene Arendas, Town and Country Veterinary Hospital, Howland, said, "I would never leave a dog in a car even with the windows cracked, once the temperatures reach 80 degrees. The dog could die in 20 minutes. Even with the window open and the car in sunlight, the dog will try to pant and lower its body temperature.
"There comes a point when their body temperature becomes too high — 109 degrees — and they begin to lose organ functions. There are cases where dogs have died in less than 20 minutes in these conditions," Dr. Arendas added.
"When it's close to 80 degrees, and you leave your dog in a car, you are putting it at risk."
The source identified the dog's handler as Patrolman James Hoyland. An attempt to reach the officer to comment was unsuccessful.
A news release from police Chief Thomas Sansone said Chico was found unresponsive in the back of the cruiser and died despite efforts of a veterinarian to save him. The chief, through a secretary, declined to make any further comments.
Chico, a 6-year old Dutch shepherd, had been with the police department since late 2009. He had been purchased for $6,000 from Tri-State Canine Services in Trumbull County, a police-dog training company run by Fowler Patrolman Dave Blosser.
"Normally, the going rate for dogs is around $12,000, usually for dogs under the age of 3, but Chico was 4 so we sold him at a lower rate," Blosser said.
Blosser said Chico was trained as a "dual- protection dog" to handle drug detection and patrols.
"Chico was a unique-type dog, very tough and spot-on in his detection," Blosser said. "Everybody knew this dog was a machine, and [police] made good arrests with him."
The dog's first handler, Patrolman Terry Dolquist, was Chico's partner until January of this year when his assignment was changed and the police dog was turned over to Hoyland.
Dolquist, contacted by The Vindicator, said he was not permitted to comment on the circumstances behind Chico's death due to the internal investigation.
Blosser said handlers undergo extensive training before taking charge of a police dog. He said he had worked with Dolquist but that Hoyland had completed his training elsewhere.
A memorial service for Chico has been scheduled for Thursday at 10 a.m. at Lawrence County Community Action Partnership on Cunningham Avenue.
Mayor Anthony Mastrangelo is out of town and could not be reached to comment.