HAPPY 103RD BIRTHDAY Anna Kozmensky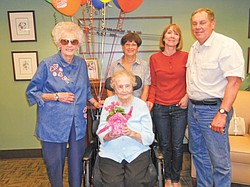 Photo
On hand to help Anna Kozmensky, center, celebrate her 103rd birthday on May 9 at Shepherd of the Valley-Niles were, from left, her sister, Fran Valcinic; her nieces, Kathy Bohach and Paula Terlecky; and her nephew, Jeff Terlecky.
Address: Shepherd of the Valley-Niles, 1500 McKinley Ave.
Date of Birth: May 9, 1908.
Siblings: Was the oldest girl in a family of seven: five girls and two boys. She helped raise her siblings; and her little sister, Fran Valcinic, said she was no-nonsense and kept everyone in line.
Spouse: At 17, she married John Kozmensky. They had no children.
Extended family: Her sister notes that the honoree "is cherished by all 12 nieces and nephews and more than a dozen grandnieces and grandnephews."
Work: She worked for Girard Leather Works and Hubbard Pressed Steel. She retired from Weatherbee Coat Co., where she made raincoats into her 70s.
Church: Holy Trinity Ukrainian Catholic Church.
Volunteering: Made pirogi for the church sale every week for nearly 90 years. Was 97 when she retired from it.