Cafaro motion calls for dismissal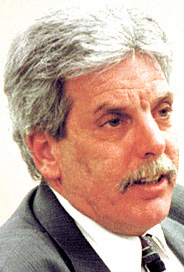 Photo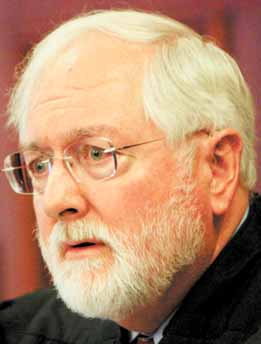 Photo
Visiting Mahoning County Common Pleas Court Judge William H. Wolff Jr. from Kettering
YOUNGSTOWN
The Cafaro defendants in the Oakhill Renaissance Place criminal-conspiracy case are calling for the indictment to be dismissed due to alleged misconduct and vindictiveness by Mahoning County Prosecutor Paul J. Gains.
"This indictment is the result of a vindictive campaign by Mahoning County Prosecutor Gains and his office to punish the Cafaro defendants and others for opposing him in a heated public debate," according to a 106-page legal memorandum in support of a motion filed Friday by the Cafaro defendants.
Gains' staff was improperly involved in the prosecution of the Oakhill criminal matter after Gains requested, and the county common pleas judges appointed, special prosecutors for Oakhill, who Gains said would function independently of his office, the motion says.
"The improper involvement of Prosecutor Gains and his staff as witnesses, advisers, and investigators in the grand jury investigation, even after the appointment of the special prosecutors, constituted an abuse of power and unlawful subversion of the independence and impartial functioning of the grand jury," the motion says.
The motion asks visiting Judge William H. Wolff Jr. to order transcription of all Oakhill grand-jury proceedings, all of which were secret, and review the transcript in private with help from the Cafaro lawyers for evidence of prosecutorial misconduct and vindictiveness before the July 11 hearing on the motion.
Judge Wolff will preside over the trial, which is now scheduled to begin Sept. 6 in Mahoning County Common Pleas Court.
Gains did not respond to a request to comment on Friday's filing.
Paul Nick, Ohio Ethics Commission director, who is one of the Oakhill special prosecutors, could not be reached to comment.
In the Oakhill case, five people and three companies are charged with conspiring to impede the move of the county's Department of Job and Family Services from Cafaro Co.-owned rented quarters to the county-owned Oakhill Renaissance Place.
Those charged with conspiracy and other offenses are Anthony M. Cafaro Sr., former president of the Cafaro Co.; the Cafaro Co. and two of its affiliates; county Commissioner John A. McNally IV; county Auditor Michael V. Sciortino; former county Treasurer John B. Reardon; and former county JFS Director John Zachariah.
The motion alleges the 73-count indictment issued by a county grand jury last July "attempts to criminalize constitutionally protected activities such as petitioning the government."
The motion also alleges Gains violated an agreement in the settlement of a civil breach-of-lease lawsuit by the Cafaro Co. The agreement was that Gains wouldn't launch any legal action against the Cafaro interests after the settlement, the Cafaro lawyers said.
Cafaro, McNally, Sciortino and Reardon publicly expressed their opposition to the county's purchase of Oakhill in 2006, expressing concerns about what they said were unknown costs of buying, operating and maintaining Oakhill.
Oakhill is the former Forum Health Southside Medical Center, to which JFS moved in 2007.