Antonini's plea deal mandates full cooperation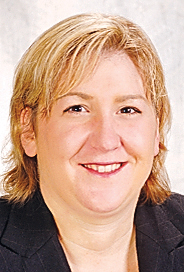 Photo
AKRON
If Lisa A. Antonini, former Mahoning County treasurer, wants federal prosecutors to recommend maximum favorable consideration in her sentencing, she must cooperate fully with any federal, state or local investigations and prosecutions where authorities seek her assistance.
Antonini, 41, of Youngstown, who resigned abruptly last month as county treasurer, pleaded guilty Friday in federal court to an information charging her with one count of honest-services mail fraud. Her cooperation is mandated in her plea agreement.
Antonini, also a former county Democratic Party chairwoman, entered her plea at her hourlong hearing before U.S. District Judge Sara Lioi, who will sentence her after a pre-sentence investigation.
The plea agreement with the U.S. attorney, signed by Antonini on April 8 and approved Friday by the judge, specifies what Antonini must do to get the U.S. attorney's maximum favorable recommendation.
She must cooperate with authorities by "providing complete and truthful information, attending all interviews and debriefings, testifying truthfully before the grand jury and all court proceedings, if necessary" and providing all documents and records authorities may request, the 17-page agreement says.
Antonini, free on a $20,000 unsecured bond, resigned as county treasurer May 16, a few hours after the charge was filed by the U.S. attorney's office.
A condition of her bond is that her travels are restricted to northern Ohio and western Pennsylvania unless the court authorizes her to travel elsewhere. She also must surrender her passport to U.S. District Court no later than Monday and may not possess any firearm.
Antonini was charged with taking and failing to report a $3,000 cash contribution to her primary campaign for county treasurer Jan. 16, 2008, from a local businessman, while reporting only a $200 contribution he gave by check on that day.
"In exchange, Antonini continued to support the businessman's interests and understood she would take official action on his behalf if opportunities arose," the information says.
Board of elections records show only Anthony M. Cafaro Sr., former president of the Cafaro Co., as a contributor of $200 by check that day to her campaign.
Cafaro has not been charged with any crime related to gifts to the Antonini campaign.
Honest-services fraud alleges a public officeholder devised a scheme to defraud citizens of their right to honest services through bribery and the concealment of material information.
Antonini's sentence will be up to Judge Lioi, who will use a complex set of advisory sentencing guidelines that take into account a multitude of factors that could raise or lower the sentence. The available sentencing range is from probation to 20 years in prison and a $250,000 fine.
Antonini's crime is rated at a base offense level of 14 on a scale that rates federal crimes from 1 to 43, the judge explained.
The plea agreement shows four points added, bringing the total to 18, because her status as a public official violating the public trust will work against her under the formula.
But Assistant U.S. Attorney Justin Roberts agreed to recommend a three-point reduction for her acceptance of responsibility through her guilty plea, reducing the total to 15.
If Antonini fully cooperates and renders "substantial assistance in the investigation or prosecution of other persons," Roberts agreed to recommend up to an additional four-point reduction.
However, the plea agreement does not mention a specific amount of probation or prison time or fine Roberts would recommend for Antonini if she fully cooperates.
In the agreement, Roberts agreed to bring no further criminal charges against Antonini related to this investigation based on what he knew at the time the plea agreement was signed.
However, after court, Roberts told reporters: "The investigation is ongoing."
"I'm sorry for what I've done," Antonini told reporters outside the federal courthouse, her voice quavering slightly. "I'm ready to move on. ... I'm ashamed and sorry for what I've done to the taxpayers of Mahoning County."