---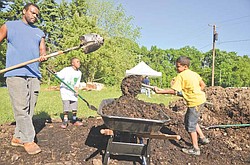 Photo
Johnny Eiland, left, Keith Foster, 10, and Samuel Rivera, 9, of Youngstown shovel soil into a wheelbarrow to use for a raised-bed garden plot.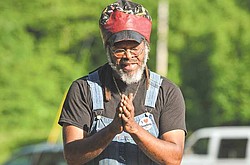 Photo
Urban gardening advocate Maurice Small of Cleveland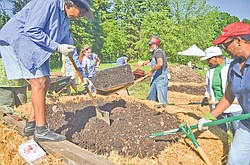 Photo
Elisabeth Stocking of St. Louis and Maurice Small of Cleveland dump a load of leaf compost into a raised garden plot for a new community garden on the East Side of Youngstown.
YOUNGSTOWN
Envisioning tomatoes and peppers and salsa, about 20 people began planting seeds Thursday in a new community garden at South Jackson and Rigby streets.
Some of the planters have never had any of these products from any place other than the grocery store.
Ronda French grew some cucumbers, tomatoes and peppers last year on the lot of her West Warren Avenue home and went to Thursday's event to learn more.
"I loved it last year, and now I want more," she said.
Maurice Small, an urban-garden designer and master composter from Cleveland, conducted a planting and compost workshop at the site. Small is cofounder of Cleveland City Fresh, which began providing locally grown food to Cleveland's inner-city and suburban communities in 2005 and helped write the grant request to the Ohio Environmental Agency's Environmental Education Fund that made the new garden possible.
Work on the community garden began in March when residents built a compost bin and Youngstown students helped clear the brush and trash from the vacant lot, said Meagan Zeune, program director for Goodness Grows in North Lima.
The community-garden program is part of Mahoning Valley City Fresh, a community- supported agriculture and gardening education program that is coordinated by Goodness Grows and partner nonprofit organizations such as the Youngstown Neighborhood Development Corporation (YNDC) on this garden project, she said.
Mahoning Valley City Fresh provides urban and suburban families with community-supported agriculture education and nutritious food access while creating direct-market opportunities for local farmers, said Liberty E. Merrill, YNDC program coordinator.
Kathy Perkins of Coronado Avenue said she was at the event to volunteer with the market- gardening program. She has a garden at home and said she plans to have plots in two community gardens this year as well.
Loretta Eiland of Lincoln Park Drive, who has never had a garden, said she wants to learn because she is starting a nutrition program with her daycare business, Precious Little Ones Child Care Center on Glenwood Avenue.
Zeune said a couple of good reasons to plant a garden are because the freshest produce is that which is freshly picked, and the gardener knows what is in the soil.
Individuals and families that claim a plot in the community garden are asked to sign an agreement that they will be respectful of the garden plots of others and the common spaces, to care for their plot and keep it free of weeds and pests and refrain from using chemicals of any kind including fertilizers and herbicides.
The garden will have about 18 raised-bed plots and eventually, fruit trees and berry bushes will be planted around the perimeter, Merrill said.