Unconventional approach helps Flashes flourish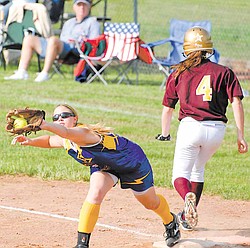 Photo
Haley McAllister, seen above reaching for a throw, and her teammates on the undefeated 2011 Champion softball team are trying to do what the 2006 team could not: leave the state tournament with a championship trophy. They could move closer to their goal today against Bellville Clear Fork in a Division III state semifinal game.
DIVISION III
STATE SEMIFINAL
Matchup: Champion vs. Bellville Clear Fork
When: Today at 12:30 p.m.
Where: Akron Firestone Stadium
By Jon Moffett
Champion
The Champion High softball team has one rule: you don't talk about softball.
You can talk about music, movies, books or even other sports. But don't you dare talk about softball.
Not when you're about to play, at least.
"We don't really talk about softball at practice. We don't really talk about it at all, actually," said junior standout pitcher Lindsay Swipas. "In our huddles we have a thing where we're not allowed to talk about softball."
While an unconventional way to approach the state tournament, head coach Cheryl Weaver has a "whatever works" mentality.
And it's working.
The 2011 Golden Flashes (25-0) are trying to do what the 2006 version could not: leave the state tournament with a championship trophy. And Weaver thinks the approach is part of it.
"It's hard to explain. We were there back in 2006 and it was so exciting," Weaver said of the state experience. "We were the [state] runners-up [in 2006] and when I look at and compare the two teams, these girls are pretty close [to the 2006 team]. I feel really good about this team."
So do the girls.
Swipas, who had been virtually flawless all year, including a 12-strikeout, shutout performance in the regional title game, said the team is so relaxed it's hard to let the experience get too big.
"We're really just all relaxed. Even during the warmups we'll be laughing and singing along with the music," she said. "We talk about anything that pops up."
Except softball.
But Weaver likes to talk softball. And her assessment is to let the girls have fun and enjoy what could be the most fun of their lives.
"They're singing and they're teasing each other about how much they eat. It's hilarious," she said. "You've just got to smile about it. And if that works for them, great.
"There are some people who have to get all pumped up and concentrate. But these girls have found they play so much better when they're relaxed. So they can play their music, and sing all they want."
But this team also knows when it's time to play, Weaver said.
"They know when they cross that white line or when they go into that batter's box they've got to be focused," she said. "But the trip getting to the game, or warming up, they stay really relaxed. But when we cross that line, it's like they change."
Weaver does have one message for her team, which hopes to earn the school's first state softball title since 1994.
"You just play your game. And that's all I can say," she said. "If you keep playing the way you've been playing, you're going to give anybody a run for their money, or you're going to take it all. And that's all I can ask for."