Trumbull judge sends Warren man to prison for 32 years in drug case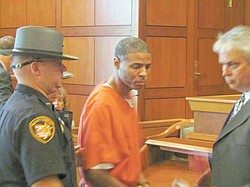 Photo
Frederick D. Johnson is led from the courtroom after Judge Peter Kontos of Trumbull County Common Pleas Court sentenced Johnson to 32 years in prison for being a "major drug offender."
By Ed Runyan
WARREN
Common Pleas Judge Peter Kontos sentenced drug dealer Fred D. Johnson, 40, of Warren, to 32 years in prison Wednesday for being a "major drug offender" who brought a large quantity of heroin and other drugs into Trumbull County from Detroit.
Jeff Orr, commander of the Trumbull Ashtabula Group Law Enforcement Task Force, which led the investigation of Johnson, said the Detroit native was somewhat unusual for Trumbull County in that he dealt large quantities of drugs.
"He was supplying a lot of people," Orr said. Such dealers usually work out of larger cities, such as Youngstown, Columbus or Cleveland, Orr said.
Prosecutors said Johnson and his girlfriend, Brandi Watson, 27, both of Wallace Street Southeast, had $120,000 worth of heroin when Orr's team and other officers chased Johnson and Watson in a car through Warren on Jan. 15, 2010. Johnson bought the heroin in Detroit earlier that day.
The chase led police to recover heroin, Watson's gun and to arrest Johnson and Watson in the days that followed.
Orr said the 32-year sentence is "probably the highest we've seen" for drug offenses in his 26 years in law enforcement.
Chris Becker, assistant county prosecutor, said the 15-year sentence Watson received and the 32 years for Johnson are "two pretty good sentences."
Becker and Orr said long prison sentences are justified by the number of Trumbull County residents who have died in recent years from drug overdoses.
Orr said statistics indicate that between 41 and 64 people have died from accidental drug overdoses in Trumbull County between 2006 and 2010.
Becker said the sentence will make it likely that Johnson dies in prison. "He should die in prison," Becker said, for the people whose lives were ruined or cut short by the drugs Johnson supplied.
After the sentencing, Johnson said, "They give murderers and rapists less time than they gave me."
His attorney, Mark Lavelle, said attorneys will appeal the sentencing.
Before announcing Johnson's sentence, Judge Kontos pointed out that Johnson spent time in federal prison between 1998 and 2007 on drug charges out of Detroit.
"I don't think you learned very much from your first one," Judge Kontos said of that sentence.
Johnson and Watson were convicted at a trial of cocaine possession and heroin possession charges, tampering with evidence, a major-drug-offender specification because of the quantity of heroin involved, plus committing the crimes while possessing a gun.
Johnson was also convicted of failing to comply with officers trying to stop him during the chase.
Johnson was sentenced to 150 months in federal prison in March 1998 on conspiracy and cocaine-distribution charges that stemmed from drug dealing Johnson did in Flint, Mich., in August 1998, when Johnson was 26 years old. The indictment named Johnson and 27 other defendants in a huge drug ring.
Johnson was released from prison in 2007 but was scheduled to remain on probation for five years.
Federal court documents show Johnson gave probation authorities an address on Ferndale Avenue Southwest in Warren as his residence after he left prison, meaning that federal probation officials in Ohio had responsibility for monitoring him until July 2012.