Rumors abound regarding the 2012 Cruze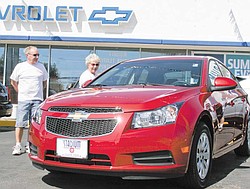 Photo
James and Ruth Cain of Salem check out a 2011 Chevrolet Cruze at Stadium GM Superstore in Salem on Wednesday. James Cain, a GM retiree, said he was impressed with the car.
By Karl Henkel
LORDSTOWN
The Chevrolet Cruze won't be built in Michigan. The 2012 Cruze doesn't get 42 miles per gallon (officially).
And no, there are no plans for a Cruze convertible anytime soon.
This according to Lesley Hettinger, spokeswoman for the Lordstown-built compact car, who quelled some of the more rampant Internet rumors.
Automotive blogs and industry types alike have scratched and clawed for information on the Cruze, which is Chevy's best- selling nameplate and will top 100,000 annual U.S. sales in June.
One misconception is that if inventory levels continued shrinking at the same rate they did in April, when gas skyrocketed to $4 a gallon, the Lake Orion, Mich., plant would produce the Cruze to help meet demand.
"We were trying to illustrate how flexible the Lake Orion plant is," Hettinger told The Vindicator. "Lordstown will remain the sole home for the Cruze."
Another rumor, perhaps perpetrated by a Photoshop expert, is that GM is planning a convertible Cruze.
"That is not being planned right now or in the future," Hettinger said.
Local plant officials didn't comment on rumors regarding the convertible.
Hettinger also said a recent figure putting gas mileage for the 2012 model at an estimated 42 highway mpg was not official and that more information on the second- generation vehicle will be made available next week.