Matt Weymer and Tigers ready for state tournament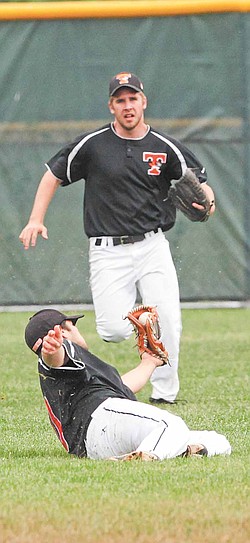 Photo
Springfield's Josh Horn watches as shortstop Cody Pitzo comes up with a diving catch during the Division IV baseball final against Columbiana. The Tigers are a game away from from a state fi nal berth.
Division IV
State semifinal
Matchup: Spring-field vs. Delphos St. John's
When: Today at 4 p.m.
Where: Huntington Park
By Jon Moffett
New Middletown
Matt Weymer makes no bones about his Springfield High baseball team.
He knows they're good. He knows they're winners. And he knows he's had very little to do with that.
"I've been telling everybody since day one that a lot of the credit has to go to [former coach] Bob Beam and his staff," said Weymer. "They really set the table here in terms of expectations and getting the guys used to winning. They were instrumental in getting things to where they are."
Weymer, 24, is enjoying much success in his first head-coaching job. He replaces Beam, who left for the top position at Boardman High after building Springfield into a perennial baseball powerhouse.
Now Weymer, a graduate of Mathews High, has the Tigers a game away from the Division IV state title game. Beam and the Tigers were the runners-up two years ago.
Just as Weymer is quick to give his predecessor much of the credit, he also said he came into the season with realistic expectations. After all, he was a first-year coach, replacing a legend at the school with many of his former players still on the roster. So he didn't exactly scribble "Columbus" on his June calendar this spring.
"I'm not going to lie and say it isn't a surprise. It absolutely is," he said. "I thought we had a great chance of winning the league. I'm not saying I thought we'd be awful, but we also knew we didn't have a straight shot out of here. We thought we could win the league and maybe get out of the district."
Maybe, shmaybe.
The Tigers (17-6) got out of the district. And the region.
"Being a first-year coach, it's exciting," Weymer said. "A lot of coaches have been doing this a lot longer than me who have never been there."
Weymer has a handful of players who made the trip in 2009. And all of that experience is a good thing, right?
"It definitely doesn't hurt to have that kind of experience," he said. "But I think a little too much stock goes into that. At the end of the day, the team that plays the best and approaches the game the best usually wins."
The approach is big to Weymer. The former Miami of Ohio pitcher fully expected to come into a situation where he would have to start from scratch. But Beam's teams already knew about how to come together.
"It's nice to come in to a program that expects to win and you don't have to deal with a huge rebuild job," Weymer said. "I'm a huge believer of team chemistry, and from the day I walked in, these guys had that. That's a huge weight off my shoulders. So instead of stressing the importance of having each others' backs, we could focus on the fundamentals."
Now it's time to focus on the state championship.
But Weymer, who teaches history at Pymatuning Valley High, admits he's impressed with what the team has accomplished thus far.
"We made it to the state tournament. Anything now is just icing on the cake," he said. "We certainly don't want to lose, but we know everything from here on out is a bonus."