Cochran calls quote 'fabricated;' SI holds firm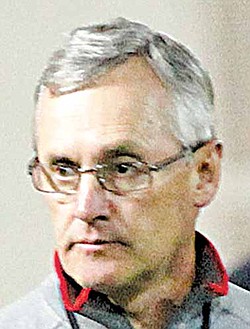 ASSOCIATED PRESS

Photo
By Karl Henkel
YOUNGSTOWN
Leslie Cochran was surprised when he read Sports Illustrated's story on Jim Tressel.
The most surprising part?
Comments attributed to himself.
He said the story, which was published Monday and written by SI's George Dohrmann and David Epstein, included a quote that he said was "fabricated."
Cochran, the now-retired Youngstown State University president who lives near Fort Myers, Fla., was contacted by The Vindicator on Wednesday.
The story reported Cochran's saying: "What bothered me was that the family knows. Inside the family, everyone knows what's going on."
That was a reference to how Tressel ran the university's football program.
YSU acknowledged violations in 2000 and announced self-imposed sanctions, though the NCAA's statute of limitations had since run out.
Eleven months later, Tressel was hired as head coach of The Ohio State University.
Though Cochran denied making that statement Wednesday, Epstein said via Twitter that the interview with Cochran was extensive and that he did indeed make that comment.
"He absolutely said it," Epstein wrote. "Not sure what more we can say."
That comment in the cover story — that ultimately led to Tressel's resignation Monday — angered many close to the YSU program, who questioned Cochran's qualifications to make such a remark.
Cochran maintained Wednesday that he wasn't misquoted; instead, he was adamant that he didn't make the family reference or anything of the like.
"I never said that," he said.
YSU play-by-play announcer Bob Hannon and Paul Lyden, former vice president and president of the Penguin Club, both said Tuesday that Cochran wasn't the best choice for SI to use as a source.
Hannon said "he wasn't a major part of the football program."
Cochran agreed with Hannon and Lyden.
"Was I the best person to define the inner workings of the football program?" he said. "Of course not, which is why I question where the statement [about family] came from."
Epstein said Wednesday he talked with Pauline Saternow, the then-compliance officer at YSU; Mickey Monus, the former YSU trustee and founder of the Phar-Mor drugstore chain; and former YSU quarterback Ray Isaac for the article.
The "family" comment dealt with the topic of Isaac, who by the time he left the university in 1992 had collected more than $10,000 in cash and checks from Monus and Monus' associates and employees.
Isaac and Monus later were implicated in a jury-tampering scandal.
Isaac, who now operates his own football camp facility in South Carolina, could not be reached to comment Wednesday.
Cochran on Wednesday reflected on Tressel's tenure at YSU and said he was shocked at the tenor of SI's story.
"It was out of character," he said of the allegations against Tressel. "I couldn't believe all that occurred."