Breaking Laces ties up different soundscapes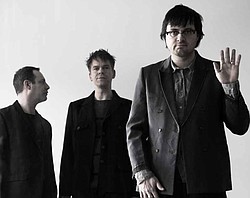 ©Jen Maler

Photo
Portraits of Breaking Laces in New York City on January 21, 2010
If you go
What: Breaking Laces
When: 11 p.m. Saturday
Where: The Lemon Grove, 122 W. Federal St., Youngstown
Tickets: $5; call 330-744-7683
Place:Knox Bldg

110 W. Federal St., Youngstown
By John Benson
The first thing you notice when listening to Brooklyn, N.Y.'s Breaking Laces is how the acoustic-based trio sounds nothing like the folk-minded indie music sweeping the nation. Slipping in and out of different soundscapes has become the modus operandi of this trio on its recently released third studio effort, "When You Find Out."
It turns out the diversity of styles was a pleasant end result from the band moving from a D.I.Y. approach in the past to a full-on studio experience filled with long recording sessions and plenty of bells and whistles.
"We spent more time in the studio than we normally do, so we had a chance to really bake this one," said singer-guitarist Willem Hartong, calling from the Big Apple. "While having five days to record 10 songs has its charm, you end up leaving a fair amount on the table. This time around, I wouldn't say we took our time, but we went through the process of making a big record, which is what we wanted to do."
He added that the band felt as though instead of parachuting into the woods with only a Swiss army knife and a knack for thinking on its feet, this experience was as if the outfit had full camping gear and a GPS system to boot.
"I suppose we just had more security in the woods and a plan of action rather than foraging for berries, because there's nothing left in the cooler," Hartong said, laughing.
The fruits of their labor include the soaring and sweet acoustic-sounding "We Can Be Great" and the poppier title track, as well as the sampler and keyboard-heavy "What We Need" and the loud "Laser Beams." Overall, the diverse sounds often catch audiences off guard, who initially are thrown when the band arrives on stage armed with nothing more than an acoustic guitar, bass and drums.
Local audiences will get a chance to see what the critically acclaimed Breaking Laces is all about when the threesome returns to the Youngstown area for a Saturday show at the Lemon Grove. As for comparisons, Hartong said the band runs the gamut, including Guster.
"Guster for sure on more of the poppier side," Hartong said. "We're very fond of that band, and we find that a lot of our fans come from that area. Their fan base is awesome. It's ridiculous. I wish we had something like that. Hopefully, someday we will. And then also on the larger sound, we get Death Cab For Cutie comparisons. That's a nice one. One guy called us Squeezer, a combination of Squeeze and Weezer. That's interesting."
More like this from vindy.com