Valley VIPs come to Tressel's defense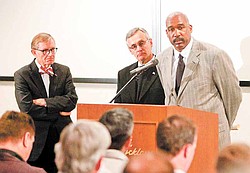 ASSOCIATED PRESS

Photo
FILE- In this March 8, 2011 file photo, Ohio State athletic director Gene Smith, right, takes questions during a news conference with university president E. Gordon Gee, left, and football coach Jim Tressel, center, in Columbus, Ohio. Smith, unable to talk about the ongoing NCAA investigation, does touch upon some fine points of the suspensions of football coach Jim Tressel and five of his players. (AP Photo/Terry Gilliam, File)
Jim Tressel at YSU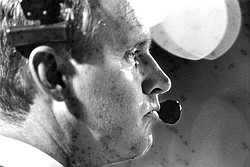 Gallery
A gallery of Jim Tressel photos from the glory days at YSU.
By Karl Henkel
YOUNGSTOWN
Former Youngstown State University President Leslie Cochran had plenty to tell Sports Illustrated about Jim Tressel.
Now, some of Cochran's former YSU brethren have plenty to say about him.
Those close to Tressel and the YSU program, including longtime play-by-play announcer Bob Hannon, questioned Cochran's remarks, especially his characterization of the university and its football program as a family.
"Inside the family everyone knows what's going on," Cochran told SI's George Dorhmann, questioning whether Tressel knew about his players' transgressions.
That comment struck a chord with Hannon.
"It wasn't fair," Hannon said Tuesday. "I think that if Dr. Cochran — the president of the university — if he knew what was going on, why didn't he take action against Mr. Tressel?"
Hannon said he didn't feel as though Cochran was ever engaged with the program and said the former president infrequently traveled with the team.
"He wasn't a major part of the program," Hannon said. "And I think it was unfair some of the things he characterized."
Paul Lyden, former vice president and president of the Penguin Club during Tressel's tenure, echoed Hannon's comments.
"You might as well let paint dry," he said. "That was his interest in the football program."
Hannon cited numerous individuals, including Joe Malmisur, the former YSU athletic director who hired Tressel in 1986, and prominent former players, who could have provided more in-depth information.
"I thought they grabbed a source that was unreliable and not credible," he said.
Hannon and Lyden weren't the only members of the YSU community to sound off on Tressel's resignation, which came in advance of SI's investigative report. It detailed more than 20 new instances of OSU football players who sold memorabilia, an NCAA violation, and revisited the Mickey Monus/Ray Issac scandal at YSU.
In 1988, according to court documents from a jury-tampering trial involving Monus, a YSU trustee and the founder of the Phar-Mor drugstore chain, Tressel called Monus about arranging a job for Isaac. By the time he left YSU, in 1992, Isaac had collected more than $10,000 in cash and checks from Monus and Monus' associates and employees, the article states.
In 2000, current YSU President Cynthia Anderson served as chair of the university's internal review committee, which self-reported an NCAA violation involving quarterback Isaac, who played for YSU from 1988 to 1991.
"We spoke with many, many individuals — team members, coaches, community folks," Anderson said. "When we wrote our report, what we did realize was that there was a board member who was acting — doing certain things — with one specific student athlete. That was the whole preface of the investigation."
Anderson said the university now has an intercollegiate athletics subcommittee on the board of trustees to oversee ethical coaching practices, but added "there's no guarantee that things like this won't happen."
Lyden called the uncovering of the violations a direct result of a "witch hunt" and that he doesn't think Tressel intentionally deceived any of his superiors when he said he didn't know of any violations.
"Aspects of the team and individual players are sometime shielded by staff members before it gets to the head coach," Lyden said. "Does the coach know 100 percent of what's going on? In my opinion, no."
Both Anderson and Hannon also denounced any notion that YSU is considering changing the name of the soon-to-debut Watson and Tressel Training Site.
"There has certainly been no formal discussion on that whatsoever," Anderson said. Hannon said he expects Tressel to fulfill his commitment.
Meanwhile, YSU students and Tressel fans backed the four-time Division I-AA national title winner.
"Jim Tressel is a good coach, a good man first," said Roy Donaldson, 35, a pre-nursing student at YSU.
Michael Banker, 34, an education student at YSU, said Tressel, who went 106-22 in 10 seasons with the Buckeyes, was simply caught in the wrong place at the wrong time.
"All schools do that. Every single school does it," he said. "It's just who gets caught."
Banker said he disagreed with the players' selling of memorabilia but that schools need to brainstorm a new way to help athletes make money.
"They can't have jobs," he said. "They have football practice ... every day. Unless their parents are giving them money, there's no other way to get it."
Former middleweight champion Kelly Pavlik said it was hard watching Tressel's demise unfold.
"I'm a diehard Buckeye fan," said Pavlik, who has gotten to know Tressel through charity events over the past few years. "It hasn't quite settled in yet. I'm sure the closer we get to the season, the harder it's going to be.
"But it's a great program, and I'm sure they'll go back out there and find another coach that can fill his spot."
All praised Tressel's career, which started as an assistant coach at Miami (Ohio) in 1979.
"The only bump in the road was the Ray Isaac situation," Hannon said. "He took an irrelevant program and turned it into a national power."
Anderson said that although multiple violations have been uncovered, the mistakes shouldn't define Tressel's legacy.
"I believe that folks should be judged on their overall career," Anderson said. "While he was at YSU he did a wonderful job, not only for this university and for the community, but he did a wonderful job with so many of our athletes."