Physical challenges don't keep teen from achieving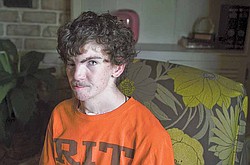 Photo
Fred Seitz, 18, deaf and afflicted by Goldenhar syndrome, endured up to 50 surgeries throughout his life but will graduate from Poland High School with a 3.9 GPA and attend Rochester Institute of Technology in New York.
By Robert Guttersohn
Poland
Using fingers and palms, Fred Seitz, 18, signed a thank-you letter he wrote — speaking with his hands a language he had never heard. The letter was to the board of education during its May 23 meeting, with mother Rose and dad Fred by his side.
It was a lengthy letter the senior, afflicted with Goldenhar syndrome and deaf since age 3, could not have written years earlier.
But through a support system that never allowed Fred to feel sorry for himself or for others to do the same, he graduates this year with a 3.9 GPA and was accepted into a program at New York's Rochester Institute of Technology with only 12 other students nationwide. "One thing I learned from my experience is that don't judge anyone until you know who they really, really are," Fred said at his home as Rose interpreted. "The character is what matters."
For Fred, the life experiences and lessons began as early as they could. During gestation, the right side of Fred's face stopped developing, leaving him without a right jawbone and ear. He was born 10 weeks premature, and doctors painted a grim picture for his future.
They told Rose his blood pressure was sky high, the vessels in his brain would rupture, and he would die.
But Rose wouldn't accept that. "I knew he was going to make it," she said.
"It was just a question of what they needed to do to help him."
After pressing doctors to find someone to administer the drugs to Fred's body, the hospital flew in a pharmacist from Pittsburgh who saved his life.
It was just the beginning. Rose spent the next weeks in the library researching Goldenhar. But it was a "Maury Povich Show" episode that changed the course of Fred's life.
There was a boy on the show also afflicted with Goldenhar, and through that episode, she discovered the Children's Craniofacial Association.
"We knew there was someone who could help him, but the hard part was finding that person until CCA."
With the CCA, they found a network of people to offer them advice, telling them what doctors performed which surgery.
At 1 month, Fred endured his first of up to 50 surgeries. One was a bone graft to replace his jaw and another to place steel rods in his back. "We stopped counting at 30," Rose said. Rose opted to put Fred through the Columbiana County school system because they offered classes for deaf students.
But in fourth grade, Fred glanced at his younger brother Jonathan's English homework and realized they were doing the same work. Unknown to Fred and Rose, the Columbiana system had taken a laid-back approach to his education. "And I had a big problem with that in Columbiana," Fred said.
He told his mother he wanted to leave for Poland schools. But with his being so far behind in English, Rose knew they needed to get him help.
In 2003, they found the help in retired Youngstown teacher Irene Tunanidas. A second-generation immigrant of Greek parents, Tunanidas, like Fred, lost her hearing at age 3 but because of a wrongfully diagnosed antibiotic for her whooping cough. She taught deaf children for 29 years in Youngstown schools before retiring in 2003.
"I thought I'd spend more time with my family until I received a phone call from the Poland Board of Education," she said.
They asked if she'd be willing to tutor Fred.
She took the job. Tunanidas told the "shy" fifth-grader to take what was in his mind and write about what he did during the summer.
Fred returned with a three-sentence essay about his motor bike.
To Tunanidas, it wasn't good enough.
"Freddy did not know how to express [his] emotions," she said.
For three hours each day, either in person or by video phone, she worked through various exercises with Fred on his writing and comprehension.
"It was really hard that first year back in Poland – especially in English," Fred said.
"Reading and writing was a big problem for me because I couldn't hear the sounds."
"She is the hardest- working person I have ever met in my life," Rose said of Tunanidas.
"It took a lot of relief off of me because before ... I was working with him three hours every night."
Fred went from being the shy boy with three simple sentences to standing before the board and the audience reading his letter of gratitude.
"I feel that I've broken down several barriers," Fred said through his interpreter. "I feel that I have no limits."