Pavlik won't rule out a title bout but may opt for another tune-up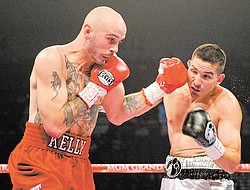 ASSOCIATED PRESS

Photo
Kelly Pavlik, left, lands a punch against Alfonso Lopez in the first round during a WBO World super bantamweight title bout, Saturday, May 7, 2011, in Las Vegas.
By Joe Scalzo
YOUNGSTOWN
It took Kelly Pavlik about eight rounds to shake off the rust in his latest bout. He might need another non-title fight to make sure it stays off.
After a 13-month layoff, Pavlik (37-2, 32 KOs) defeated Alfonso Lopez by majority decision on May 7 but admitted it took longer than expected for him to regain his timing.
"I knew in the fight that it was bad," he said. "I actually didn't want to watch the fight because I knew how bad it was.
"As the fight went on, I was feeling a lot better but after the last showing, we could probably use one more fight [before fighting for a title]."
Pavlik felt if it had been a 12-round bout, instead of 10 rounds, he would have knocked out Lopez in the 11th round. Pavlik's trainer, Jack Loew, said he was surprised it took Pavlik so long to shake off the rust and said he'd like to see if the rust stays off before fighting a championship-caliber opponent.
"I hate to call them tune-up fights because they're real opponents but I would like to fight someone like a Peter Manfredo," said Loew, referring to the IBO middleweight champion. "What I want to see is if all the rust that came off after the eighth round is gone.
"I thought he looked really good in the ninth and 10th round and I want to continue from that point, not look rusty again."
That said, Pavlik and Loew agreed that if the opportunity for a title fight came along, they would be reluctant to turn it down. Pavlik mentioned IBF super middleweight champion Lucian Bute, WBC champion Carl Froch and former WBA/WBC champion Mikkel Kessler as attractive possibilities.
Kessler and Froch are both fighting on June 4 and Bute is fighting on July 9, so it would be difficult to schedule a bout with any of them this summer. Pavlik would like to fight no later than late September.
"I do want big fights and it would be hard to pass one up," said Pavlik, who is the WBC's No. 1 ranked contender at super middleweight. "But if nothing opens up anytime soon, I think it's important to take a lower-name fight."
Loew agreed.
"Not to say we wouldn't be ready for a big fight, but I think we would be a whole lot more prepared if we had one more fight under our belt," Loew said.
More like this from vindy.com