Pavlik, Loew set card for first show
Dannie Williams spar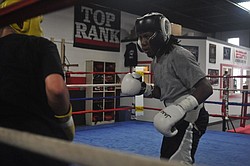 Gallery
Dannie Williams spar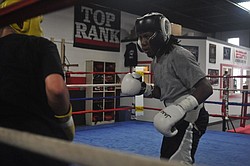 Gallery
By Joe Scalzo
YOUNGSTOWN
"Ghost Productions" is pulling no punches for its first boxing card.
WBC continental champion Dannie Williams will headline the July 1 "Friday Night Fights" boxing card at the Covelli Centre. The locally-dominated card will also feature Niles' Billy Lyell and, possibly, Campbell's Jake Giuriceo.
The event will be held outside the Covelli Centre, weather permitting. In case of rain, they will move the event indoors.
It is the first event for "Ghost Productions," a promotional venture headed by former middleweight champion Kelly Pavlik, his father Mike Pavlik Sr. and his trainer, Jack Loew.
"People thought I was crazy and that the Covelli Centre was a little too big but we're not looking at it as a club show," said Loew, who also trains Williams. "We're looking at it as a boxing event."
The card will also include bouts by area boxers Darnell Boone, Marco Hall, Anthony Pientrono, Kevin Dotson, Juan Salinas (making his pro debut) and, possibly, Durrell Richardson.
"We're trying to keep it local and instead of putting all our eggs in one basket, we're trying to build up all the kids, not just one guy," said Loew.
Pavlik and Loew said they're hoping the card will lead to bigger boxing events that will ultimately be broadcast by ESPN or HBO from cities such as Atlantic City or Las Vegas.
"My main thing is to go out for the fighter's aspect of it, to get them as much money as they can and get them some exposure," Pavlik said of getting into promotions. "We're looking to go bigger and better after this.
"This is our first show and we want people to walk away looking forward to the next one."
Tickets will cost between $15-$75 and will go on sale Friday at the Covelli Centre, Ticketmaster.com and the Southside Boxing Club.