Cities that weathered housing bust now suffer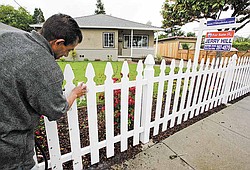 ASSOCIATED PRESS

Photo
A man cleans a fence at a house for sale in East Palo Alto, Calif., Monday, May 31, 2011. Home prices fell nationwide for the eighth straight month, according to the Standard & Poor's/Case-Shiller 20-city index released Tuesday. Home prices in major areas have reached their lowest level since the U.S. housing bubble burst in 2006, stymied by foreclosures, a surplus of unsold homes and continued reluctance of Americans to buy homes. (AP Photo/Paul Sakuma)
Associated Press
WASHINGTON
Even cities that weathered the housing market crash with relatively little damage are suffering now.
Severe price declines have spread to Dallas, Denver, Minneapolis and Cleveland, which had mostly withstood the bust in housing since 2006. The damage has now gone well beyond cities hit hardest by unemployment and foreclosures, such as Phoenix and Las Vegas.
"We didn't enjoy the highs and the lows like other cities," said Kay Weeks, a Realtor with Ebby Halliday in Dallas, where prices fell nearly 1 percent in March and are expected to keep falling. "But when we get bad news nationally, people take notice and cut back on ... buying homes."
Home prices in big metro areas have sunk to their lowest since 2002, the Standard & Poor's/Case-Shiller 20-city monthly index showed Tuesday. Since the bubble burst in 2006, prices have fallen more than they did during the Great Depression.
The index, which covers metro areas that include about 70 percent of U.S. households, is updated every quarter and provides a three-month average. The March data is the latest available.
Foreclosures have forced prices down so much that some middle-class neighborhoods have turned into lower-income areas within months.
Prices are expected to keep falling until the glut of foreclosures for sale is reduced, companies start hiring in greater force, banks ease lending rules and more people think it makes sense again to buy a house. In some markets, that could take years.
The latest report points to a "double dip in home prices across much of the nation," said David Blitzer, chairman of the Index Committee at Standard & Poor's.
Prices fell from February to March in 18 of the metro areas tracked by the Standard & Poor's/Case-Shiller index. Prices in a dozen markets have reached their lowest points since the housing bubble burst in late 2006.
The overall index fell for the eighth straight month and has dropped 3.6 percent in the past year. Prices had risen last summer, fueled by a temporary federal homebuying tax credit. But they've tumbled 7 percent since then. After adjusting for inflation, the home-price index has sunk to the level of 1999.
Cities with high foreclosures such as Phoenix, Las Vegas and Tampa, Fla., are flooded with homes sitting vacant, awaiting buyers. Many banks have agreed to allow homes at risk of foreclosure to be sold for less than what is owed on their mortgages. That has pulled down prices.
Coastal areas, such as San Francisco, San Diego, Los Angeles, Washington and Boston, have fared comparatively better in the past two years. They have been helped by healthy local economies, desirable city centers and limited space for new housing. In New York, homes are still 63 percent more expensive than in 2000.
In the middle are cities such as Dallas, Denver, Minneapolis and Cleveland, which are seen as bellwethers for the national housing market.
In the next two months, prices in Dallas and Denver are expected to reach their lowest since the housing downturn began.
In 12 other cities, prices are already at the lowest point since the end of the boom: Atlanta, Charlotte, Chicago, Cleveland, Detroit, Las Vegas, Miami, Minneapolis, New York, Phoenix, Portland, Ore., and Tampa, Fla.
During the Great Depression, prices fell 31 percent. It took 19 years for the housing market to regain its losses after the Depression ended.
More like this from vindy.com