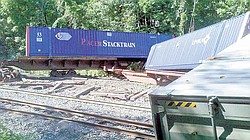 Photo
The crash of up to 73 train cars that derailed from CSX tracks in Niles on Saturday startled nearby residents. It was the second CSX derailment in the area this year.
By Ed Runyan
NILES
Between 43 and 73 train cars on the CSX train tracks at the southwest end of town derailed at 2:45 p.m. Saturday, but no evacuation was necessary, no injuries were reported, and no hazardous chemicals were spilled.
The derailment did produce quite a bit of noise and left the tracks littered with derailed train cars for a quarter to a third of a mile, said Niles Fire Capt. Randy Ciminero.
"It's absolutely a mess down there," he said, adding that people who heard the derailment were startled.
"They were shook up. They'd never heard those noises before," Ciminero said.
Ciminero said he doesn't know how many cars were in the train in all. "It was a long train," he said.
It is the same tracks and the same train company, CSX, that derailed in Newton Falls, about 10 miles to the west, on March 28.
That derailment resulted in the evacuation of about 200 Newton Falls residents because of concerns for hazardous chemicals, though no chemical-tanker cars derailed and no injuries resulted.
Ciminero said he was greatly relieved when he saw the train's manifest and found that none of the cars contained hazardous chemicals. He also didn't see any cars with placards on them indicating that hazardous chemicals were inside.
"Cars on those same tracks do sometimes contain hazardous chemicals," Ciminero said, so he was concerned about that until he knew that the cars were safe.
"We are very fortunate it didn't escalate to anything more," Ciminero said.
The derailment occurred where the tracks intersect with 5th Street, just north of Salt Springs Road and a short distance west of state Route 46.
The derailment area is near a few homes on 5th Street and Salt Springs Road but is mostly remote and wooded, Ciminero said.
The bridge at 5th Street will be closed indefinitely while CSX cleans up the derailed cars.
"CSX has crews on the way," Ciminero said several hours after the derailment.
The train crossing is not a heavily traveled route, and a detour to get around the intersection is a relatively short distance away, so the detour won't produce a great deal of inconvenience, Ciminero said.
He added that so far, it's not clear what caused the derailment.