East Palestine man moves in auto racing circuits; taking on ARCA trucks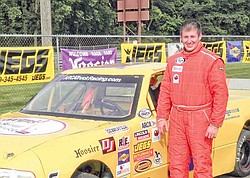 Photo
East Palestine High School graduate Brandon Huff raced Legends cars for three years until joining the ARCA Truck Series this year.
EAST PALESTINE
Even before he graduated from high school in June 2008, Brandon Huff of East Palestine graduated from the go-kart circuit to Legends cars.
His first Legends cars race was in March of that year.
Curious classmates would inquire about his weekend performances in the small vehicles which are powered by motorcycle engines.
"I was pretty rare for my class," Huff said of his senior year. "I was the only one doing something like that. Guys asked how I did after every race. They thought it was pretty cool."
But Huff didn't stop there.
He raced Legends cars for three years until joining the ARCA Truck Series this year.
The now-21-year-old Huff has three ARCA races under this belt, including a fifth-place finish during a 100-lapper at Kil-Kare Speedway in Xenia.
Huff's progression to this point suits him.
"There are many different routes to take," Huff said of his growth from go-karts to Legends to trucks.
"This is just a route we've chosen to go [to move to the Truck Series]. We felt ready for it. There are many different steps, but this is just another step."
To Huff, the one-step-at-a-time formula seems sensible.
"We're focusing on what we have," he said. "We don't want to wreck something brand new because we don't know how to handle it. You've got to be successful at it before moving on."
Taking the cautious approach may have a financial basis, too.
"There are all different kinds of cars and levels, but it's what anybody can afford," he said of his 2007 Chevy Colorado.
"Most of it is my money, but he [my dad, Dan] helps out with different parts. It's not paid off yet."
His next race is Aug. 6 at Flat Rock, Mich.
The trucks are a lot more horsepower than the Legends cars, which are replicas of vintage models. Huff's Legends car had a 1934 body style.
Huff, a junior mechanical engineering student at YSU, had his first experience in the ARCA Truck Series on May 14 at Toledo Speedway.
"I hadn't driven in a truck before this year," Huff said. "You've got to have a lot of laps to adjust to the new atmosphere. The last few races were hard to adjust to, but now I'm getting a feel for it."
Huff was 11th at Toledo, then sixth in Winchester, Ind. in June.
"That was probably my favorite — a big 1/2-mile track with a lot of speed," he said of Winchester. "It was a lot of fun."
Seven of the Series' 12 originally scheduled races still remain.
The truck — basically an S-10 Chevy engine, Huff said, looks more like a stock car than a pickup and the front end looks like an actual race car.
Sheet metal covers the area where the truck bed would normally be.
"There's a fuel cell mounted on the frame in the back," Huff said. During a race, only about eight of the truck's 15-gallon capacity is consumed during a 100-lap event.
The six-cylinder modified truck uses 110 octane gas.
"We buy it from an oil company," Brandon said. "Generally, gas stations don't sell it. It's meant for high heat and racing."
In Winchester, Huff said his truck was pushing 120 mph.
The hardest part of racing, Huff said, is having enough energy to finish, especially during hot weather.
A friend, Chris Brown of East Palestine and a cousin, Cody Rohrmann, are crew mechanics, helping with chassis setups and adjustments. Rohrmann is also the spotter.
Dan Huff's duties range from crew chief to public relations manager.
"We're constantly looking for sponsors to help take Brandon to the next level," Dan Huff said of the operation, whose main sponsor is Early's Crane Sales and Rental out of East Palestine.
At Columbus Speedway, Huff wrecked on the third lap.
"A guy got sideways in front of us and another guy turned into us and everyone was reacting to what was happening. I got hit and pushed into a wall. We got pretty beat up and were out at that point."
Huff wouldn't rule out NASCAR five years down the road, but he's trying to be realistic.
"With the economy, it's hard to tell. I'll take one step at a time."