Brad Smith signs with Buffalo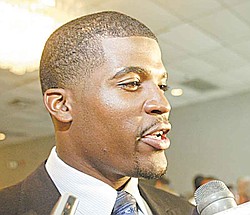 Photo
RELATED: Browns busy on free agent front; Steelers hit field
By Tom Williams
Relief was the feeling for Chaney High graduate Brad Smith once he made his decision to join the Buffalo Bills.
Thursday, the University of Missouri graduate agreed to join the Bills for a four-year contract worth approximately $15 million.
"Relief is what I felt first," said Smith who for five years has been a wide receiver/quarterback/kick returner for the New York Jets. "Honestly, it's not been a long process, but it's been kind of stressful, hearing from different teams, keeping late hours.
"But once we — my wife [Rosalyn] and I — made the decision, then it's been exciting."
After playing quarterback at Missouri, Smith was drafted by the Jets in the fourth round of the 2006 NFL draft.
Listed as a wide receiver, the Jets also used him on occasion as quarterback to run a wildcat package.
Smith has 64 career receptions for 557 yards and eight touchdowns. He also compiled 767 rushing yards and 51 passing yards.
As a kick returner, he compiled 1,968 yards. Last season, he returned two kicks for touchdowns including a 97-yarder at Pittsburgh's Heinz Field on Dec. 19 when the Jets defeated the Steelers, 22-17.
Like the Steelers — who defeated the Jets in the AFC championship game on Jan. 23 — the Jets took advantage of the last year's uncapped season to load up on wide receivers. Santonio Holmes, Braylon Edwards and Jerricho Cotchery as well as tight end Dustin Keller were quarterback Mark Sanchez's main targets.
Wednesday, the Jets reached an agreement for Holmes on a five-year deal worth approximately $50 million including $24 million guaranteed. Edwards is a free agent.
Smith isn't surprised that he and Edwards were available.
"The new [salary] cap number is a lot lower than people expected," said Smith of the $120 million cap for 2011.
"Only so many guys can command those numbers," he said referring to the Holmes contract.
Smith said his final decision was between the Bills and two other teams he declined to reveal.
"It's a tremendous opportunity," said Smith of playing for the Bills. "I had a great conversation with [head coach] Chan Gailey about his vision for the team and myself. The Bills have a lot of great, young talent."
Smith agrees that moving to a division rival (the Jets and Bills are in the AFC East) will be interesting.
"I have a lot of love for the Jets, it's been my home for five seasons and they gave me a great start," Smith said. "Sometimes you have to make tough decisions."
Smith can sign with the Bills today but can't practice until next Thursday. One of his new teammates is wide receiver Donald Jones who played for Youngstown State.
Another YSU receiver, Dominique Barnes, signed a rookie free agent contract with the Lions on Thursday. Barnes, who led the Penguins with 67 receptions for 911 yards and four touchdowns, is from Southfield, Mich., a suburb of Detroit.
Also, former Cardinal Mooney standout Derrell Johnson-Koulianos refuted several reports that he had signed a contract with the Eagles.
Johnson-Koulianos, apparently, remains unsigned.
More like this from vindy.com