U2 reaches lofty heights at Heinz Field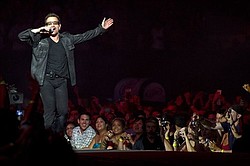 ASSOCIATED PRESS

Photo
Bono, of the rock group U2, performs in concert as part of U2's 360 Tour at the New Meadowlands Stadium in East Rutherford, NJ, Wednesday, July 20, 2011. (AP Photo/Charles Sykes)
By GUY D'ASTOLFO
PITTSBURGH
U2 doesn't shrink under the massive scale of its 360 Tour.
It towers over it.
The Irish rockers launched the global tour in 2009, and brought it to Heinz Field for the 109th show of 110. Tuesday's concert — part of the largest rock tour ever in terms of sales, fans and, presumably, stage structure — was the last in America (the tour concludes Saturday in Moncton, Canada). And it clearly demonstrated why there is no bigger band in the world.
Musically and visually, it was stunning. Witnessing Bono's familiar voice and appearance was surreal. The Edge's staccato guitar style and plaintive notes pierced the night in "I Will Follow," as did the distortion on the intro to "Mysterious Ways." Ditto for Larry Mullen's militaristic drumming on "Sunday Bloody Sunday."
As for "The Claw" — the much-ballyhooed four-legged stage structure lived up to its reputation. It made the stadium seem smaller, and the band seem even more magnificent.
The 167-foot tall Claw would have looked at home at Cedar Point — a giant thrill ride with a garish theme. Or was it one of those arcade games where a mechanical claw scoops down to snag a stuffed toy? Bono, The Edge, Mullen and bassist Adam Clayton were the prizes in its grasp.
It also had all sorts of amazing effects up its sleeves, including a cylindrical screen that dropped down to the stage, flashing and spinning like a Vegas slot machine.
Later, beams of light shot up from it a thousand feet into the sky. As I looked up to follow its reach into the heavens, a jet flew over the stadium. And in that instant, not only did Heinz Field seem smaller — but so did the whole world.
U2's global significance in politics and humanitarian causes were on display. There was a message from Space Shuttle commander Mark Kelly during "Beautiful Day," and a plea for political prisoners in Burma before "One."
Bono is one of the most iconic figures in rock, but he knew where he stood — literally — in Pittsburgh. "There's no place I'd rather be than the City of Champions," he said, adding "it's a bit intimidating" to be on the same field where the Steelers play.
With the help of a fan, Bono recalled the supergroup's first Pittsburgh appearance: a 1981 gig at the Decade, the late and legendary rock club.
The band sampled its three-decade catalog with 26 songs in two hours and 20 minutes, including "Even Better Than the Real Thing," "Pride," "Still Haven't Found What I'm Looking For," "Beautiful Day," "Vertigo," "One," "Where the Streets Have No Name" and "With or Without You."
As 11:30 p.m. rolled around and the encore wound down with "Bad," Bono wailed the song's most powerful line into the night: "I'm wide awaaake."
And so were we all, perhaps more than ever.