— New York-Penn League —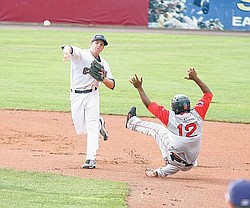 Photo
Scrappers infielder Todd Hankins fires to first for a double play as Lowell baserunner Keury De La Cruz (12) hits the dirt during Wednesday's game at Eastwood Field.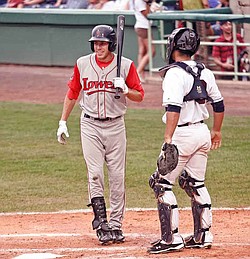 Photo
Lowell's Drew Turocy looks for a sign from his third-base coach during Wednesday's game. Tuorcy, a graduate of Canfield High, was drafted by the Boston Red Sox in June's draft.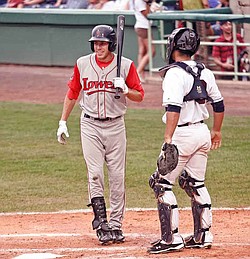 Photo
Lowell's Drew Turocy looks for a sign from his third-base coach during Wednesday's game. Tuorcy, a graduate of Canfield High, was drafted by the Boston Red Sox in June's draft.
NILES
The Scrappers tallied one run in each of the first five innings Wednesday to snap a 20 1/3-inning scoring drought.
Those runs were enough for the Scrappers (22-17) to defeat the Lowell Spinners, 5-3, at Eastwood Field.
The victory snapped a two-game losing streak and has the Scrappers tied with the Auburn Doubledays and Jamestown Jammers for first place in the New York-Penn League's Pinckney Division.
The game marked the local minor league debut of former Canfield High standout Drew Turocy, who was drafted by the Boston Red Sox in the 24th round of June's Major League Baseball draft.
Turocy went 1 for 4 with a single, flyout, groundout and strikeout.
"It was my first time here and I'm enjoying it," said the 22-year-old, who has one semester left at the University of Akron.
"It felt good," Turocy said of his hit in the fourth inning, when Lowell had three of its seven hits.
"You look at it [1 for 4] and, obviously, you might not be happy, but, right now, I'm still going through the learning experience and the routine and everything, so, I'll take my hits when I can get them and improve every day."
Turocy says he's an every day player.
"I've been playing about four or five games in a row and then get a day off and play four or five again," Turocy said. "I worked it out with my manager that I was coming back to my hometown so I could be playing when here."
He said it's nerve-wracking to play in front of a hometown crowd.
"When I'm on the road, I don't know anyone, but, coming back knowing there's 40-50-60 people here just for me, you don't want to screw up."
Defensively, Turocy played right field.
He said that the Scrappers got key hits in key situations to make the difference on Wednesday.
"Obviously, our pitching wasn't the best tonight, so, hopefully, we can bounce back and get our offense and defense working together."
Of the game's seven errors, Mahoning Valley had four and Lowell three.
In the bottom of the first, Tony Wolters' single put Cody Elliott in scoring position at third before Jake Lowery walked to load the bases for cleanup hitter Jordan Smith.
A throwing error on Lowell third baseman Travis Shaw allowed Wolters to reach home for a 1-0 Scrappers lead. Todd Hankins struck out to finish the inning, stranding three runners.
In the second inning, Aaron Siliga doubled and stole third base. After Elliott walked, Wolters' fielder's choice allowed Siliga to score for a 2-0 lead.
---
Scrappers Notebook
Former Canfield standout Drew Turocy made his Eastwood Field debut in a minor league uniform as the leadoff batter in the top of the third inning. Turocy flied out to left-fielder Siliga.
After Matty Johnson's flyout to center, Scrappers starter Rob Nixon was tagged for a hit by Keury DeLaCruz, whose hit past the shortstop allowed a hustling Jayson Hernandez to reach third. Hernandez, earlier, reached on an error.
A fielding error on third baseman Smith allowed Nick Natoli's grounder to score Hernandez, giving Lowell its first run. After Shaw walked to load the bases, Boss Moanaroa flied out to right-fielder John Barr to end the inning with three Spinners left on.
Catcher Alex Lavinsky's solo home run blast over the left-center wall with one out in the third inning put Mahoning Valley up, 3-1.
After Todd Hankins drew a bases-on-balls and Jerrud Sabourin struck out, Siliga came to the plate.
Seth Schwindenhammer's leadoff homer over the right-field fence in the fourth pulled Lowell within, 3-2. Turocy came to bat again and hustled to narrowly beat out a grounder that second baseman Hankins fielded to his right side before making the difficult throw to first baseman Sabourin. Hernandez's groundout allowed Turocy to reach second. He then got to third on Johnson's infield hit. Johnson stole second to put runners at second and third before Nixon struck out DeLaCruz to end the threat.
Nefi Ogando replaced Spinners starter Raynel Velette to start the bottom of the fourth, but he got in trouble right off the bat when Elliott and Wolters reached base on a dropped third strike/passed ball and walk, respectively. Smith's clean hit up the middle scored Elliott for a 4-2 edge and Wolters occupied third base.
Mahoning Valley started off its half of the fifth with a walk by Lavinsky and a single by Hankins. With Sabourin at bat, his grounder that was fielded by shortstop Joantoni Garcia was then flubbed as the Spinners infielder tried to flip the ball to second base for a putout. The miscue loaded the bases, but two straight flyouts put the threat in jeopardy until another error by Garcia allowed Lavinsky to score for a 5-2 lead.
Cody Allen took over for Nixon to start the sixth for the Scrappers.
In his third time at the plate, Turocy took a 2-2 count from Allen before the left-handed hitter who went to the University of Akron watched Allen's third strike go by. Allen got Hernandez to fly out to left field to end the inning.
With one out, a strikeout by DeLaCruz, Garcia's hit pushed Johnson to third base in the top of the seventh. But Allen struck out both Shaw and Moanaroa to finish the frame.
After two of his teammates struck out to start the eight, Turocy appeared at the plate for a fourth time. His hard grounder to shortstop was fielded and thrown to end Lowell's half of the inning.
Andrew Jones took the mound for the Spinners in the bottom of the eighth and the Scrappers brought on Enosil Tejeda to pitch in the ninth.
Hernandez opened the final inning with a double, that he stretched into an extra base. After a strikeout and groundout that scored Hernandez for a 5-3 score, Garcia also struck out to end the game. Scrappers notebook text starts here.