Pavlik moves on from weight issue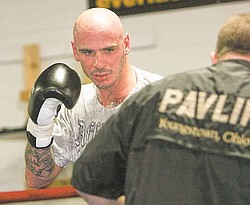 Photo
Kelly Pavlik works out at the South Side Boxing Club with trainer Jack Loew in Youngstown on July 20, 2011.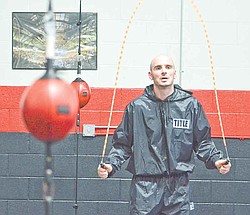 Photo
Kelly Pavlik works out at the South Side Boxing Club with trainer Jack Loew in Youngstown on July 20, 2011.
YOUNGSTOWN
For a tune-up that is supposed to have the gravity of an event a little heavier than weightlessness, Wednesday's 45-minute conference call demonstrated that boxer Kelly Pavlik's Aug. 6 fight at the Covelli Centre against Darryl Cunningham carries a load of interest.
A lot of questions arose about Pavlik's last fight against Alfonso Lopez, Pavlik's weight (again) and his 36-year-old opponent.
This marks the first time Pavlik (37-2) hasn't had to fluctuate between weight classes — middleweight and super middleweight — for successive fights at super middleweight.
Has the heavier class adjustment been a burden? Apparently not.
"Making 160 was just impossible and still is to this day," the Youngstown-based fighter said. "I'll never be able to see 160 again.
"We're not killing ourselves to make weight; training camp is not about the scale," Pavlik said. "Going into my last couple fights at middleweight, it was more about getting ready to make weight instead of getting ready for the opponent.
"Now, we can prepare more on boxing than how we're going to lose weight. I'm really happy with this weight class."
Against Lopez in May, Pavlik said he didn't feel the difference in the opponent's size and power.
"No, I didn't notice the weight; it wasn't a factor in the fight," Pavlik said. "I had a hard time with timing, though, so that's why we wanted to come back right after that fight and make sure the timing is good.
"Plus, we wanted to keep active and keep sharp," the former middleweight champion said. "That's why it was difficult picking up on the punches [vs. Lopez]. It was hard to time."
Pavlik said he went back and watched film and noticed that he looked a little jittery when Lopez threw punches.
"I was punching a little too much, more than I did against a power puncher like [Edison] Miranda," Pavlik said. "So, there's a lot we studied on that [Lopez] film.
"I not only watched my opponent, but I watched mistakes I made, too. That way, we could fix things. After a 13-month layoff, I thought Lopez fought a smart fight, but we got it through."
Pavlik is watching more tape of himself.
"I never did do that, but at this stage of my career I think it's important to start," Pavlik said. "You could always pick up what the other guy is doing wrong, but, if you're getting into a lot of bad habits and have flaws that you're not noticing and not working to correct, that's not good at all. That's the reason we started doing that. At this stage it's very important."
Although Pavlik wasn't a big film-watcher, trainer Jack Loew did the homework.
"I've done it all the way through," Loew said. "I've always watched our previous one or two fights and then came back to Kelly and told him what we should correct. I think it's important to look forward and not look back."
Cunningham is reported as not having a lot of big-time power, but Pavlik tempered the claim.
"If you give him momentum or let him come forward, he likes to throw a lot of punches and big shots. If you put pressure on him he likes to go backwards — straight backwards," Pavlik said. "We've seen a lot of that, so I think our game plan is to fight like we always have, early on, and that's to put pressure.
"But we can't come straight, you know, chin first or head first, but side-to-side angles while keeping the punches moving and set up the big shot."
How dangerous is Cunningham, who fought a four-rounder against Dannon Svab at the Covelli Centre on Nov. 2, 2006?
"Any fighter is dangerous, especially if you don't take it serious or are looking past it," Pavlik said. "At this stage of his career, this might be his last big-name fight.
"He's 36, so he's going to come in wanting to win more than anything, but I think I've faced a lot more dangerous fights in my career, though."
Loew said he doesn't have any worries about Cunningham because he has all the confidence in the world in Pavlik.
"Anytime you go in there with another professional fighter, there's danger," the South Side Boxing Club trainer said. "Cunningham has everything to gain and nothing to lose, so he's going to go all out and this is an opportunity for him to make a name for himself.
"We picked a left-hander because we're looking for things [Lucian Bute] past it, but what people haven't mentioned is that we're not looking past Darryl Cunningham."
The Detroit fighter's ability, however, can't be compared to that of Bute, the super middleweight champion.
"It wasn't so much a southpaw who was going to look like and emulate Bute," Loew said. "It's more that we needed a southpaw and we needed to be in camp sparring with southpaws.
"If we wouldn't have taken a fight like this, it would have been another six months before we got in with someone like Bute, and I didn't feel that was good.
"So the whole key was to train with a left-hander [sparring partners] for a left-hander [Cunningham]. Yes, we're looking at the big picture down the road, but we've done nothing but concentrate on Darryl Cunningham."