K-9 officer to retire Aug. 26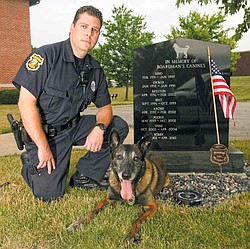 Photo
Police dog Yuma, an eight-year veteran of the Boardman Police Department, retires next month and his handler, officer Daryn Tallman, will purchase Yuma from the township for $1.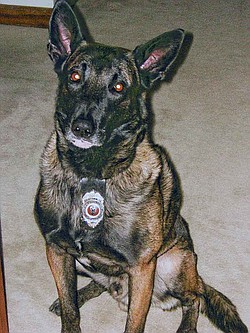 Photo
Yuma, a K-9 officer with Boardman police for eight years, will retire from the force Aug. 26.
BOARDMAN
An eight-year veteran of the township police department will hang up his badge next month.
Officer Yuma, one of the department's two Belgian malinois police dogs, will retire Aug. 26. Township trustees already have approved the purchase of Yuma's replacement using privately donated funds that were collected last year. It costs about $12,750 to purchase and train a new police dog.
Officer Daryn Tallman, Yuma's handler, said that Yuma averages eight drug sniffs per month — giving him more than 750 career drug sniffs — and has been a crime deterrent.
"Last summer, Yuma and I pulled up on a traffic stop, and the passenger began eating his drugs. He got charged with felony tampering with evidence simply because he heard Yuma barking and knew we were going to find it," Tallman said.
Yuma, who will be 10 years old in September, will be purchased by Tallman from the township for $1. The township's police-dog program began in 1991, and Yuma is the ninth dog to serve. At one time, there was a police dog for each of the three police shifts, but now there are two.
Township Administrator Jason Loree said he is working with the police department to apply for grant funding for a third police dog so one would be available on all three shifts.
Tallman said police dogs and their handlers often are called to crimes in progress. He remembered one incident when two burglars broke into a farmhouse in Springfield Township and fled into a cornfield and woods. He and Yuma were called to assist in the search.
"No human officer would have been able to find them," he said.
But Yuma was able to track the two suspects, one of whom had a lengthy criminal history in Boardman, and found them hiding under some brush.
The dog will have a tough time adjusting to retired life, Tallman said.
"He's all work," Tallman said. "He doesn't have a light switch; this is what he likes to do."
Tallman will start training with the new police dog Aug. 29 at Shallow Creek Kennels Inc. in Sharpsville, Pa.