Trumbull County ex-engineer admits theft in plea deal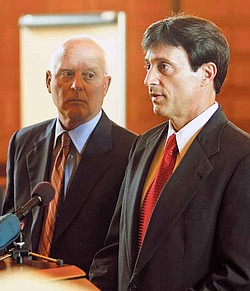 Photo
David DeChristofaro, right, a former Trumbull County engineer, stands in court Tuesday with his attorney, Michael Bowler of Akron.
DECHRISTOFARO GETS PROBATION
By Ed Runyan
WARREN
A special prosecutor and David DeChristofaro's own attorney agreed that the former Trumbull County engineer knew it was wrong to ask his staff to do political and personal tasks for him on county time.
With his education and training as a professional engineer, "he should have known better," his attorney, Michael Bowler of Akron, said after DeChristofaro appeared in Trumbull County Common Pleas Court on Tuesday.
DeChristofaro pleaded guilty to felony theft and misdemeanor conflict of interest.
DeChristofaro had argued that he thought it was OK to use office help and office supplies for campaign purposes as long as he repaid the county. He approached the county auditor last year and attempted to pay for supplies.
"I think he knew full well what he was doing was wrong," said Paul Scarsella, a special prosecutor with the Ohio Attorney General's office who worked on the case.
During depositions conducted for a civil trial aimed at removing DeChristofaro from office, DeChristofaro's secretary detailed a week or more worth of work she did for him over the course of a year that pertained to campaign activities.
Investigators, after gathering evidence that DeChristofaro's conduct was illegal, concluded that he should lose his job as county engineer but not be barred from ever serving as a public employee again, Scarsella said.
"One of the goals was to make sure [DeChristofaro] was removed from office, pay restitution and pay for the costs of the investigation," Scarsella said, adding that DeChristofaro's resignation July 14 was part of his plea agreement.
"His conduct was ... egregious, but we didn't think being barred from serving in public office was appropriate," Scarsella said.
Bowler said the Ohio Engineers and Surveyors Board will conduct a hearing in about a month to consider whether DeChristofaro should lose his engineering and surveying licenses.
Bowler said DeChristofaro is relieved to have the stress of the criminal investigation behind him and is looking for new work.
DeChristofaro, 54, of Niles, was elected county engineer in November 2008 and took office in January in 2009. He resigned as vice president of the Cafaro Co. just after his election and also was Niles' city engineer.
Visiting Judge Richard D. Reinbold Jr. of Stark County sentenced him to two years' probation and ordered him to pay $5,000 in restitution and $7,400 for the cost of the criminal investigation.
Judge Reinbold warned DeChristofaro that if he fails to abide by the terms of his probation, such as paying his restitution, the court could send him to prison for 11 months.
Scarsella, who investigated the case with Julie Korte of the Ohio Ethics Commission, said a theft-in-office charge could have been presented to a grand jury, but conviction on that charge would have permanently barred DeChristofaro from public office.
Instead, DeChristofaro agreed to plead guilty to a bill of information, meaning the case didn't go to a grand jury for indictment. DeChristofaro's plea avoided trial and expense, which is a reason lesser charges were allowed, Scarsella said.
DeChristofaro offered no comments about his crimes during or after the hearing.
He showed no signs of anxiety during the hearing, which was attended by news media but was not on the published schedule of hearings for the day. DeChristofaro's plea doesn't appear on the published schedule of hearings and therefore wasn't attended by the public.
After the hearing, DeChristofaro was escorted from the courthouse by a deputy sheriff. He was headed to the county jail to pose for a booking photo and be fingerprinted. He was released later on a personal recognizance bond, meaning at no cost.
Atty. Subodh Chandra filed a civil suit on behalf of a Niles taxpayer that sought DeChristofaro's removal from office and also represents Nicole Klingeman, who sued DeChristofaro as a result of DeChristofaro's laying her off from her job at the engineer's office on DeChristofaro's first day in office.
Two others who were similarly laid off settled out of court for a combined $490,000. They were both relatives of the previous county engineer, John Latell.
Chandra said DeChristofaro's plea agreement doesn't reflect the variety of other charges that could have been brought against DeChristofaro, but he said DeChristofaro's plea meant he "admitted at long last" that he committed theft. That could have some bearing on the outcome of the Klingeman case, he said.