Poland golfer commits to Indiana University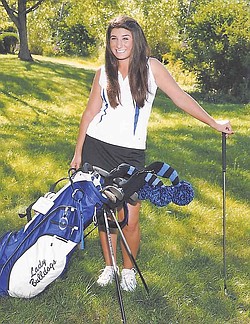 Photo
Poland High School senior golfer Maria Mancini verbally committed to attend Indiana University on a scholarship.
By Tom Williams
POLAND
Although she's only been golfing for about four years, Poland High senior Maria Mancini has been bitten by a competitive bug.
Mancini, whose Bulldogs were state champions her freshmen year and state runner-up her sophomore and junior years, has made a verbal commitment to attend Indiana University on a scholarship.
"I want to take a shot at big-time golf," said Mancini of playing for the Big Ten's Hoosiers.
Among the schools she considered were Bowling Green and Toledo.
"The main reason I chose Indiana is I really like the coach [Clint Wallman] and assistant coach [Lauren Harling]," Mancini said. "And they have a lot of new facilities for their student-athletes. I really liked the atmosphere I found on campus."
She's leaning toward majoring in business.
Unlike many teen golfers who have been swinging clubs for most of their lives, Mancini didn't try golf until she was an eighth grader.
"But I didn't really take it seriously until freshman year," Mancini recalled of her first efforts, Until then, she swam for the YSU Penguins club team.
She said giving up swimming wasn't that hard because she felt she wasn't as good as a lot of swimmers she raced.
Her goal then was to make Poland's varsity golf team. She succeeded and was part of Coach Judy Young's 2008 state championship squad.
Mancini laughed when asked if she remembered how she did during her first varsity matches,
"My first score was 105, which is not terrible for a first time," Mancini said. "I worked really hard to improve — my goal was to make varsity."
Within two weeks, her scores dropped below 90.
She saved her best that year for last as she shot an 83 in Columbus to help the Bulldogs win the state crown.
Last Thursday at Tam O'Shanter in Hermitage, Pa., Mancini shot a 71 to win a qualifier for the Greatest Golfer Junior Tournament.
She admits her late start is unusual for a competitive golfer.
"Most of them have been golfing since they were 6 or 7," Mancini said.
Mancini said her parents — Joe and Amy — are experienced golfers.
"My Mom golfed in high school and my Dad is a really good golfer," Mancini said.
She credits Young and her swing coach, Joe Allen of Avalon Lakes, for her development.
"I see him about once a week," said Mancini of working with Allen. "He's been a really big help with the recruiting process."
Mancini said she began sending out information to college coaches when she was a sophomore.
She has been an All-American Conference Red Tier honoree and also made the Northeast Ohio Golf Coaches Association's first team in each of her three varsity seasons.
Mancini said she loves about golf is the "challenge of trying to stay in the moment of each shot. Golf in general has given me a lot of experiences. I traveled a lot and seen a lot of competitive golfers."