Canfield native donates liver to toddler son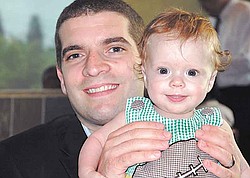 Photo
Chris Mastramico and his son, Rocco
How To Help
A fundraiser is planned to assist the Mastramico family with medical costs:
WHAT: Four-person golf scramble
WHERE: Mill Creek Park Golf Course
WHEN: Saturday
INFO AND TO DONATE: Cisit www.cotaforroccom.com.
PITTSBURGH
It's only fitting that 10-month-old Rocco Mastramico's first word was "da-da."
After all, his father, Chris, helped give the little boy the gift of life – twice.
Rocco was born Sept. 3 and diagnosed three months later with Biliary Atresia, a congenital abnormality that disrupts the flow of bile from the liver to the gallbladder. It can lead to liver damage or cirrhosis, which can be fatal.
Chris Mastramico, a 1991 Canfield High School graduate now living in Pittsburgh, donated a portion of his liver to Rocco in May after finding he was a match.
"I was relieved," he said in a recent telephone conversation with The Vindicator. "That was first and foremost." He and his wife, Diane Sandels Mastramico, said they soon realized how blessed they were because many babies wait months, even years, to find a transplant match.
Diane said she knew she wasn't a match because she and Rocco have different blood types. "It's been very emotional," she said. "Lots of ups and downs."
Things are getting back to normal in the Mastramico household. Neither Chris nor Rocco had any complications from the surgery, and the boy's progress is encouraging.
Chris said Rocco's doctors are pleased that he's gained weight, is starting to crawl and, like most toddlers, is getting into everything. "He's behind the curve for 10 months, but he's making up for lost time," Chris explained.
Diane said she had no indication there was a problem during pregnancy. Once Rocco was delivered, he was yellow with jaundice, and doctors knew something was wrong. There were tests, more tests, a diagnosis and doctors then determined a life-saving transplant was necessary. "There was an instant color change after the surgery," she said.
There will always be a chance Rocco's body could reject the liver, but Chris said they are almost out of the eight-to-12-week period in which many rejections occur.
Rocco will likely be on immunosuppressant drugs for the long term to discourage rejection, but his prognosis is good, according to his parents. For now, he must avoid large groups of children and anyone else who may be sick. He recently visited Kennywood amusement park and has been cleared for an upcoming family vacation with his parents and sister Rena, 4.
Diane, an IT manager for Dick's Sporting Goods, has used up the leave allotted her by the Family and Medical Leave Act. She's been working on and off over the last few months and said family, friends and a baby sitter have pitched in with the kids. Chris, a project manager for software company Ariba, returns to work Aug. 1.
Chris is the son of Virginia and Dr. Robert Gerberry of Canfield, and the late James Mastramico. Virginia said it's mind boggling to think about everything the family has been through. She spends a good deal of time with her son's family and said she now tries to keep Chris from trying to do too much during recovery.
It will take a year for Chris' liver to regenerate the missing piece, Virginia said, explaining that he wants to get back on his bike and stay active. "I tell him 'I want you to be healthy to enjoy [Rocco], so don't overdo it,'" she said.
The family's out of pocket costs for treatment and follow-up care are expected to reach $65,000. Fundraisers, including a four-person golf scramble, dinner and silent auction are planned for July 30 at Mill Creek Golf Course to help offset costs. For more information, visit www.cotaforroccom.com. Donations are also being accepted through the site.