Woman interested in case of Jordan Brown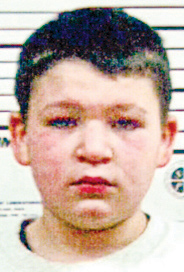 Photo
NEW CASTLE, Pa.
With only weeks remaining until Jordan Brown's next court hearing, the message boards and Internet web pages are buzzing about the case that has drawn national and international interest.
Jordan, now 13, is accused of two counts of homicide in the February 2009 murder of his father's fianc e, Kenzie Houk, and his unborn half-brother in the farmhouse where Jordan lived. The case has languished for over two years while courts struggle to determine what to do with the boy who would be the youngest in this country ever to be sentenced to the mandatory life in prison if he is tried and convicted as an adult.
One of many people who have taken an interest in the case is a 33-year-old New Hampshire mother of two who has spent many hours researching Jordan's case since learning about it in January.
Melissa Higgins of Merrimack, has established a website with detailed information about the case, and it can be accessed at http://www.justice4juveniles.com or at http://www.freejordanbrown.com. The website lists a recap of the case as well as links to related articles, and a link to a Facebook member page about Jordan she has established.
There are also links to other websites that include commentary about the case, court documents, a time line and a request to electronically sign a petition to the Pennsylvania attorney general asking him to "uphold his oath and recognize Jordan's constitutional rights" including right to a speedy trial and the right against self-incrimination. The petition can be found at Change.org: http://www.change.org/petitions/justice-for-13-yr-old-jordan-brown-2.
Amnesty International also is raising questions about whether Jordan's prosecution as an adult would violate international law. The website can be accessed at http://www.amnesty.org.
Higgins said she was drawn to the case by Jordan's age, 11 at the time of the murder. Investigating further, she became convinced that Jordan could be innocent. She questions how thorough a job police did investigating the case and whether there aren't other possibilities besides Jordan's guilt.
A writer for a digital magazine, Higgins even made and posted a short video about the case on the website. She said she is happy that an appeals court ruled Jordan's consitutional right against self-incrimination was violated by the common pleas court ruling that he should be tried as adult because he was not amenable to rehabilitation since he had not admitted guilt. She pointed to the circumstances of his initial questioning by police without his father present and what she believes is sparse physical evidence as other factors that make her question Jordan's guilt.
She commented that she would like to see a law enacted requiring that police questioning of juvenile suspects or witnesses be electronically recorded.
Regardless, she believes that even if Jordan is guilty, life in prison without the chance of parole is too harsh a penalty for a then 11-year-old. Although she believes Jordan is innocent, she said that if he is proved to be guilty, the juvenile-court penalty of imprisonment until age 21, is acceptable if he is placed in a program geared toward rehabilitation.
Evidently there are many who agree with Higgins. The petition has drawn 2,027 signatures from all over the United States and the world. A California resident posted on July 19, "It is shocking … that a minor who isn't allowed to vote, isn't allowed to drive and isn't deemed to have the cognitive ability to enter into his own contracts is being tried as an adult."
Higgins said that when she first put up the website, the reaction was mostly negative and against Jordan. She said some of the comments were "surprising" in the "hateful" sentiments they expressed toward the boy. However, she said the comments have been becoming more supportive of Jordan as she builds the website and adds more information to it.
She also believes Jordan's rights have been violated by the length of time that he has been awaiting trial. She pointed out that when Jordan's case finally comes to court, those who will judge him will see him as a 14-year-old, (he will turn 14 Aug. 30) not as the 11-year-old he was when the murder took place.
She wonders about a jury, too. "We are supposed to be judged by our peers," she said. "Will Jordan be judged by children his age?"
Higgins said she will continue to follow the case and hopes to attend the Aug. 5 decertification hearing in common pleas court here that will determine again whether he will be tried as a juvenile or adult.