Wing Fest variety adds spice to Covelli atmosphere
The Vindicator ( Youngstown)

Photo
JESSICA M. KANALAS | THE VINDICATOR..Eddy Erhardt of Poland shows off his food options at his tent at the Wing Fest in Youngstown. Erhardt owns the Eddy's Smoken Pit BBQ and Grill which opened in 1975. "We started with a pick-up truck and a grill," he said. "I wish every day was like today."..-30-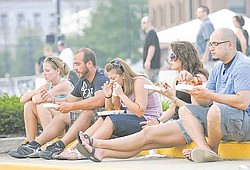 Photo
From left, Erin Simione of Boardman and Struthers residents Dan Monico, Jamie Rivello and Bridget and Bill Bowes take a break Saturday evening to enjoy chicken wings at the Greater Youngstown Wing Fest outside Covelli Centre.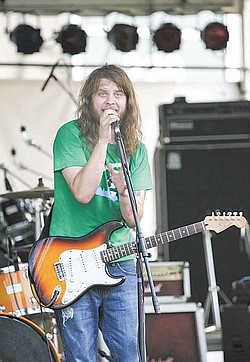 Photo
Lead singer and guitarist Dustin Dockery of the Heights Band performs at the Greater Youngstown Wing Fest outside Covelli Centre on Saturday evening.
By Sean Barron
YOUNGSTOWN
While participating in a three-day festival at the Covelli Centre, many area restaurants spread their wings — or at least encouraged people to eat them.
"We have a large variety of sauces you can do more with," said Bobby Williams, a three-year employee of The Rig Pub & Eatery on East Market Street in Warren. "We try to come up with something a little different."
One thing that was different for Williams was being part of the first Greater Youngstown Wing Fest at the center.
The Rig was one of several wing vendors in Mahoning, Trumbull and Columbiana counties to participate in the outdoor event, which also featured a car show, live entertainment and more. Sponsoring the gathering, which wrapped up Saturday, were First Place Bank, Miller Lite and Rollin' Smokes.
A feeling of normalcy seemed to have returned to the event after a sudden late-afternoon thunderstorm swept through the area Friday, injuring two people, toppling tents and damaging some vendors' equipment. The storm canceled the evening portion of the event Friday, though the event resumed at noon Saturday amid temperatures in the low 90s.
Williams said he heard about the festival from Peter Sfikas, The Rig's manager. The restaurant makes numerous types of wings using hot, ranch, teriyaki, barbecue, buffalo, garlic, calico, Cajun and other sauces, he said, adding that it has nine full- and part-time employees as well as a family-like atmosphere.
Many people also sampled and bought wings from Mike and Nancy Howard, owners of Mike's Famous Hot Dogs, which opened in January 2010 on McCartney Road in Campbell.
The business, formerly Jay's Famous Hot Dogs, sells about 15 kinds of wings, three of which the Howards brought to the fest. They were barbecue, hot and a flavor Mike Howard came up with called hot feta horse, which combines horse radish, hot sauce and feta cheese, Howard explained.
"It's hot, but it won't burn," he added.
Howard said he got the idea from a neighbor, with whom he had a discussion about wings. The neighbor said he ate something with bleu cheese dressing and suggested Howard try it, which led to Howard's experimenting a bit and settling on hot feta horse, he said.
Also helping the couple were their daughter, Paige DeRhodes, and nephew James Sherosky.
Plenty of entertainment awaited those who ate or bypassed the wings. Headlining the event was Michael Stanley and the Resonators, who were to take the outdoor stage about 9:30 p.m. Saturday.
Opening for Stanley were Jordan DePaul & The Reputations, The Robbie J Band, The Heights Band and Don't Tase Me Bro. All four are local bands that provided alternative rock, pop and other styles of music.
Also part of the festivities was Drive Magazine's Classic Car show, which featured a few dozen vintage Fords, Chevrolets and other vehicles. Door prizes included a trip to Orlando, Fla., and a gray 1966 Mustang convertible.
About 25 vendors took part in the event, noted Kelsey Rupert, Covelli Centre's director of marketing.
The concert and sports arena has been successful with other outdoor gatherings, which provided part of the impetus for Wing Fest, Rupert explained.
Two vendors offered help for those seeking protection for their gutters and waterproofing their homes. Others sold T-shirts, scented products and other items.