In search of another title, Pavlik says he has no plans to depart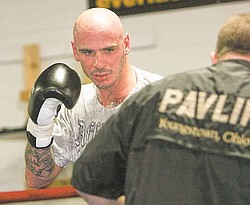 Photo
Kelly Pavlik works out at the South Side Boxing Club with trainer Jack Loew in Youngstown on July 20, 2011.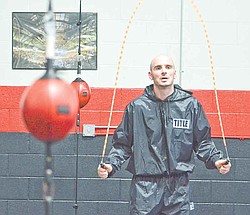 Photo
Kelly Pavlik works out at the South Side Boxing Club with trainer Jack Loew in Youngstown on July 20, 2011.
By Joe Scalzo
YOUNGSTOWN
On Aug. 6, 29-year-old Kelly Pavlik will fight Detroit's Darryl Cunningham in a super middleweight bout at the Covelli Centre.
It will be Pavlik's 40th professional bout — the same number as Sugar Ray Leonard and more than fighters such as Felix Sturm (39) or Jermain Taylor (33).
If Pavlik wins, he will face IBF super middleweight champion Lucian Bute on Nov. 5 in Montreal.
Pavlik (37-2, 32 KOs) recently made headlines for an altercation with his brother on July 8 in which, according to police, he "punched the west-facing side door of the home and pulled his brother, Michael, out of the broken window."
Although reports say both were drinking, Pavlik denied he had anything to drink.
In an interview Wednesday at the Southside Boxing Club, Pavlik declined comment on the incident — "I just want to talk about what's next," he said — but he and his trainer, Jack Loew, were open about other aspects of his boxing career:
Q. First of all, the recent incident renewed calls for you to either move out of town, or at least train out of town? Do you have any plans to leave Youngstown or train outside of Youngstown?
PAVLIK: I'm still committed to living here. I'm not going to have talk or anything push me out of Youngstown. Like I've said before, you're damned if you do [leave] and damned if you don't. Other people have left and got ridiculed and if you stay you get ridiculed. So there's no real reason for me to do it.
But for this training camp and the next one, everything's going to be a lot more isolated. Not going to being doing much [publicity] at all at that point.
LOEW: They've [outsiders] been calling for that since Day 1. There's a lot of guys that train in their hometowns. We've had some of our worst days and our worst camps out of town. It's all on Kelly. He knows what lies ahead of us and he knows what he's gotta do to prepare for that fight and it's all on him.
Q. This is your first camp in awhile where you're not coming off a big layoff between bouts. Have you noticed a difference in training camp so far?
PAVLIK: I'm in a good spot right now, even with a short-notice fight. I was only off for a little over a month after the last fight [against Alfonso Lopez on May 7] and we'll go in here and take care of business. We're not overlooking this kid at all but as soon as we get done with this fight, we'll probably only have about two weeks off and then we'll go right back to a tough training camp and it'll be an eight-week training camp.
I feel like my timing's here right now. The last camp, it took awhile to get my timing back, so we don't have to worry about that part. The only thing we have to worry about is making sure we're fine-tuned conditioning-wise and so far that hasn't been a problem. I feel good at this point. I haven't had time to gain too much weight and right now I'm sitting good with the weight.
LOEW: This is something we wanted. We were off 12-13 months, the last thing I wanted to do was sit for another six months before fighting a guy like Bute. That's why we pushed for him to have a fight, whether it was here or somewhere else. I just thought it would be good for him to get in the ring, get a look at some left-handed sparring, fight a left-hander and have it all lead up to the Bute fight. That's, basically, what this is all about.
Q. How similar is Cunningham to Bute as a fighter?
PAVLIK: They're a lot different, actually. But I think it's good to get a southpaw in there, though, for one more fight. Constantly working on a southpaw for longer than eight weeks. Closer to 16 weeks.
LOEW: I probably would have picked somebody more similar to Bute but again, my whole goal was to get Kelly in the gym, have left-handed sparring and fight a left-hander. We know we're fighting Bute the fight after this and if we win this fight, we'll prepared for Bute. It's just a matter of getting a left-hander in there, where everything is different.
Q. Do you like fighting southpaws?
PAVLIK: I do. Everybody talks about Martinez fight. If you watch the middle rounds, I had him and the weight had a lot to do with [with losing]. I've always had success with southpaws, even going back to amateurs.
LOEW: Martinez was the only southpaw we ever lost to, going back to the amateurs.
Q. You mentioned that you want to get back to doing some of the things you used to do in your training camp, like going to the Ironman Warehouse. Is that still the plan?
PAVLIK: It was too short of notice to get down there for this fight — by time we would have started, we'd have had to quit — but after this fight we are. And possibly sneaking back to Rocky's [in Boardman] with the lifting. At the same time, we'll be working on boxing ability and doing a lot of cross-training.
LOEW: For the little bit of time we have [for this fight], we've tried to go back a little bit. Even for the Bute fight, we're going to do more of the old-fashioned [stuff] that got us there. Crazy stuff. Pushing cars, flipping tires, hanging upside down, whatever.
Not only us but I think a lot of fighters after they got to a certain plateau, they try to go too fancy, try to go too high tech. And I don't think it works. Even Kelly's old saying, "Why fix it when it ain't broke?" We tried to fix it and it wasn't broke. I'm not going to say it cost us, but it [the new training] wasn't giving us the same effect that it [the old training] was in the earlier days.
Q. Do you still love to box? Did you miss it during the layoff?
PAVLIK: I missed it. There's a lot of things that come with it that I don't miss, as far as the business aspect of it. But I miss getting in the ring. When you see other guys in the gym working out and sparring, that's the first thing you want to do, to get in the ring and do it. Right now is the time to enjoy it while we have it.
Q. Do you have something to prove, not just to your critics but your fans, too? PAVLIK: I do. I think it's important to go back in there and win a world title. I had a title, I defended it for three years, which is a great accomplishment, but I'm not done yet. I want more. I think if we go over to Canada and knock out Bute or, by some miracle, get a decision up there, which is going to be hard, I think that puts us back on top again. He's a great fighter with a great name and right now there's a lot of talk already that it's going to be a sellout and that'll be a great way to get a world title.
LOEW: I think to get a lot of people back on board and to make it a more interesting Bute fight, I think we've got to look vastly better than we did against Lopez. We should go in there and fight Cunningham like we did Miranda. Balls to the walls and push this kid backwards and test our will and our strength against his and that's the way it has to be.
Q. Obviously, to do that, you have to beat Cunningham first and a loss would be very damaging to your career. Is that why you're not taking him lightly?
PAVLIK: First of all, he's a tough kid. He's a good fighter and he's been in there with a lot of good fighters. If we don't get past Cunningham, everything with Bute is thrown out the window. We don't need that at this point.
It's our time to get in there and focus on him right now and we still have plenty of time to focus on Bute after that.