Mount Carmel Festival: A food lover's dream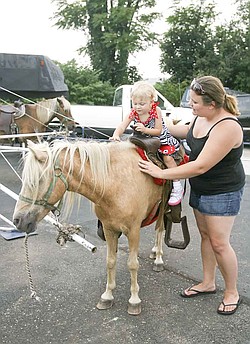 Photo
Kaylee Trolio, 2, of Boardman goes for a pony ride as her mother, Lizzie Padgitt, walks beside her at the Mount Carmel Italian Festival on Saturday. The annual festival opens at 1 p.m. today and concludes this evening at 10.
By Jeanne Starmack
YOUGNSTOWN
A walk through the 13th annual Our Lady of Mount Carmel Italian Festival is a food lover's dream.
"We came here to eat," declared Doreen Ghioldi of Austintown, who was there Saturday with her husband, Tony, her mother-in-law and aunt from Boardman and friends from New Castle.
"It's our heritage," she added. "We go to this one, Brier Hill's and the one downtown. We look forward to that."
The Mount Carmel Festival continues until 10 p.m. today on the church grounds at 343 Via Mount Carmel near Choffin Career Center. Admission is $4, and parking is free.
Ghioldi's should-not-miss list includes the beer tent and the Philly steak sandwich vendor near it. "Delish," she proclaimed.
The other culinary choices are numerous, from fair goodies such as elephant ears, french fries and milkshakes to traditional Italian food such as fried greens, Italian sausage and cavatelli and meatballs.
There's music, too, and you can bet on a few spins at the Chuck-a-Luck wheel, where church members Len Perry of Canfield and Maggie Wolf of Austintown will gladly take your money. Maybe you'll get it back and then some.
Proceeds are going to the church for a new roof, the Sunday school program and the making of the church's homemade marinara sauce and salad dressing, Wolf said.
The church sells the sauce and dressing in area grocery stores, she explained, and that money goes to charities in the community.
Joe Frank of Youngstown, in charge of the festival gaming, stood nearby as Wolf spun the wheel.
He recalled the festival's roots and how far it's come.
"The Men's Vestibule Club started the festival in 1999," he said. "It was a small thing inside [the parish hall]," he continued. "It really grew."
Between 12,000 and 13,000 people attended last year's festival, said chairman Tony Trolio.
This year so far, he said, attendance is off by between 20 percent and 30 percent. Weather is why.
"It was down a lot Thursday because of the high heat," he said.
"We did great [Friday], then the storm came," he said, adding that the crowd picked up again afterward.
The storm, which knocked over tents at the Wing Fest in front of the Covelli Centre a few blocks away, also destroyed five craft-vendor tents at the Italian festival, he said. They were back in business Saturday.
"There's nothing to be done about the weather," he said. "With two good days, we can make it up again."
The festival starts at 1 p.m. today with a procession down Via Mount Carmel to the United Way building and back through the festival grounds.