Motorist killed by falling tree; others injured in flash storm
By Christine keeling
ckeeling@vindy.com
Rains stop WINGfest

Video
Eric Ryan Executive Director of the Covelli Centre - says the show will go on starting at noon Saturday- Michael Stanley Band will perform - after high winds and rain stopped the WINGfest late this afternoon.
Storms Hit Youngstown and Wing Fest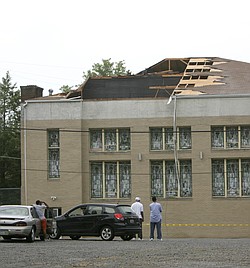 Video
A late afternoon summer thunderstorm hit the southside of Youngstown - taking down limbs, trees and knocking out electric - the WINGFEST at the Covelli Centre had several people injured when tents were blown down . Mt Calvary Church lost part of its roof.
Storm causes town damage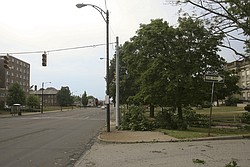 Gallery
A Trumbull County woman was killed and several other
Mahoning Valley residents were injured when a severe storm passed through the area late
Friday afternoon.
In northern Trumbull County, police say Angel Eckart, 32, of Brookfield,
was killed about 5 p.m. as she was traveling on Sodom Hutchings Road in Johnston Township when strong winds and rain knocked a tree onto her car.
Straight-line winds in Mahoning County caused the Youngstown Wing Fest to close for the night after two main tents collapsed, causing minor injuries to two people at the event. The fest will reopen at noon today.
The storm also is blamed for ripping off a portion of Mount Calvary Pentecostal Church's roof on Oak Hill Avenue and tossing it into an empty parking lot, but Sunday services will take place as usual.
And in Columbiana County, a large tree toppled power lines and both fell across the road in the 1100 block of South Lincoln Street in Salem. A green Ford Explorer was trapped beneath a tangle of wires and a downed utility pole, which was sheared in half.
Salem Police Lt. David Casto, who was on the scene, said an ambulance had been there, but he didn't believe anyone was injured. A short time later, a Salem Police dispatcher said she heard the female driver of the Explorer was not injured and was waiting outside the vehicle when officers arrived. The dispatcher was unable to provide any further information.
South Lincoln was closed between Summit Street and the area near the railroad tracks. Casto said just before 7 p.m. he was waiting for Ohio Edison to shut off power to the area. He didn't expect the scene to be cleared until sometime after midnight. Power outages were reported in different parts of the city, including a portion of East State Street's business corridor.
"We watched [the tent] start to go, and everyone started to run," said Beth Erhardt of Smoken' Pit BBQ of Poland, one of the vendors at Wing Fest.
She said cups and garbage cans were flying.
The two tents were built across Front street and housed wing vendors, tables and chairs.
"It happened so fast," said Bernard McKnight, from AQJ Designs of Virginia. "All you could hear was 'woosh.'"
He said Covelli Centre staff began ushering people to safety inside the center.
"You couldn't even see, the rain was coming down so hard," McKnight said.
His sister, Christine
Houston-Howard, sustain-ed a minor injury.
"I tried to run back to save equipment and I burnt my arm on the T-shirt press," said Houston-Howard.
She said medical personnel tried to treat her quickly, but she noticed a man bleeding from the head and asked that they treat him first.
Eric Ryan, executive director of the centre, said two employees were injured. A security officer was taken to the hospital after he was hit in the head by a tent pole, and a ticket seller was treated on site for cuts he received to his legs from flying debris. Ryan said both are expected to make a full recovery.
The Clarks, who were scheduled to perform Friday evening, will be rescheduled, and VIP seating for the show will be refunded, said Ryan.
Wing Fest will reopen today at noon with a car show and main stage entertainment, and vendors will begin at 5 p.m.
Michael Stanley is set to perform tonight.
Neighbors and congregation members gathered on Oak Hill to see the storm's damage to Mount Calvary.
The rear portion of the church's roof lay across the street in the empty lot, and power lines dangled from utility poles.
"You can always replace mortar and buildings," said the Rev. Alfred Coward. "We're just glad no one was hurt."
The Rev. Mr. Coward said he had left the church about 20 minutes earlier and received a call from a parishioner about the damage. He said the inside of the building was saved because the church built the roof over an existing roof.
"We had a flat roof and added a pitched roof, so water could run off," said Mr. Coward. "Who knew it would be a savior."
Although the church and parts of the neighborhood were without power after the storm, Mr. Coward said Sunday services would go on as scheduled.
The storm also damaged a tree in front of Eagle Heights Academy on Market Street and caused several traffic lights on the street to go out.
According to First Energy, between 5,000 to 10,000 people were without power last night in Mahoning and Columbiana counties, and between 2,000 and 5,000 were without service in Trumbull County.
Extremely high winds also were reported throughout Columbiana County, and numerous calls came in for downed trees, said Shawn Rogers, dispatcher for the Lisbon post of the Ohio State Highway Patrol.
Martin Mullen of the National Weather Service in Cleveland said the area could see additional rounds of severe weather over the weekend.