Irish teens help build Habitat house in Youngstown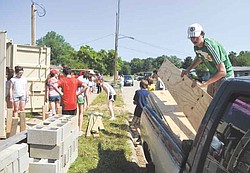 Photo
Michael Croft, 15, right, of Northern Ireland, moves lumber at the site of a Habitat for Humanity project at 1316 Dryden Ave. in Youngstown. Teens with the Mahoning Valley Ulster Project performed the community service Thursday.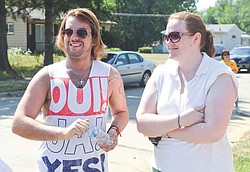 Photo
Project counselors Gary Canning, 22, and Jen Fryer, 26, were at the site to help guide the teens through their tasks.
YOUNGSTOWN
The Leavell family's home on the city's East Side got a helping hand from area residents and visitors from Northern Ireland.
Members of the Mahoning Valley Ulster Project spent Thursday landscaping and water-sealing the basement of a house on Dryden Avenue as part of a Habitat for Humanity community service project.
The activity was just one of many the eight Irish teenagers have taken part in with their local host families.
"It never gets this hot at home," said Sarah Coates.
The 15-year-old from Belfast is staying with Elaine Remick of Poland and said she is enjoying her visit to the area.
Some of the group's itinerary included a community-service project at Millcreek Children's Center and trips to Camp Elkhorn in Bergholz, Ohio, the YSU Festival of Arts and Cedar Point in Sandusky. They also learned about other religions by visiting local mosques and synagogues.
"Really different culture here," Sarah said. "So much bigger and really friendly people."
Gary Canning, 22, of Belfast, an Ulster Project counselor, said during the group's monthlong visit, he and the teens talk about issues they face at home in Northern Ireland regarding prejudices between religious groups.
The Ulster Project was founded in 1975 by the Rev. Kerry Waterstone of Ireland. Northern Ireland Protestant and Catholic teens have been coming to the Mahoning Valley since 1988.
Its mission is to help change the perceptions of Ireland's youth and ease tensions felt between Catholics and Protestants by pairing the 15-year-old teens with American teens age 13 to 17 in an environment that promotes tolerance, leadership skills, confidence and friendship.
In Northern Ireland, barriers run between Catholic and Protestant neighborhoods.
"They call them peace walls," Canning said. "But all they do is divide."
He said that in July, Protestants march through Belfast, and protests and riots are common.
Canning has been involved with the Ulster Project for many years. In 2004, he stayed with a host family in Knoxville, Tenn., and is now in his second year as a counselor. He said the experience made him realize that there are not many differences between people.
"We hope we can send someone back knowing they can change something," said Lynn Seekford, director of the Mahoning Valley Ulster Project, said the program has a hard time getting American host families because most are busy with summer activities. But, she said, she never had a family participate and walk away with regrets.
The Irish teens are set to leave July 30 after host families say farewell at Canfield Presbyterian Church.
Canning said he anticipated the plane ride home will be a quiet one, but other teens and counselors said they plan to stay in touch.
"We're gonna have a reunion," Sarah said.