Field is set with final qualifiers for Greatest Junior Golfer of the Valley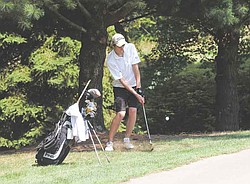 Photo
RAMI DAUD | THE VINDICATOR.Lucas Clarke plays during the Greatest Junior Golfer qualifier at Tam OÕ Shanter in Hermitage Thursday afternoon.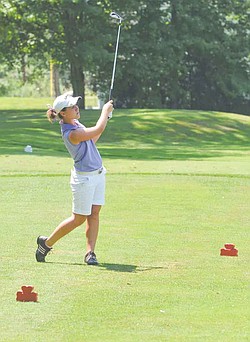 Photo
Haylee Harford competes at Tam O' Shanter Golf Course in Hermitage in the third and fi nal qualifying round for the inaugural Greatest Junior Golfer of the Valley tournament. Harford, a freshman at Warren JFK, shot a 76 to fi nish second in the girls' division and secure one of the last eight spots in the championship round July 31 at Trumbull Country Club.
Field is set with final qualifiers for Greatest Junior Golfer of the Valley
By Tom Williams
HERMITAGE, PA.
It took three extra holes to determine the final qualifier for The Greatest Junior Golfer of the Valley tournament.
Thursday at a steamy Tam O'Shanter Golf Course, four boys and four girls qualified in their divisions for the tournament final that will be played on July 31 at the Trumbull Country Club in Warren.
Mercer's Lucas Clarke, who will attend the Golf Academy of America in late August, won the boys event with a 71, followed by Mohawk's Shane Eichenlaub who shot a 76.
Three golfers tied for third, forcing a sudden-death playoff to determine third and fourth place. Mooney's Ricky Clark of Poland birdied the first hole the playoff, leaving Warren JFK freshman Ryan Fowler and Shenango High senior Bradley Thorton.
Two holes later, Fowler shot a par 5 to win the playoff by two strokes after Thorton's second stroke landed in the rough off to the right of the fairway.
Although he's one of the youngest qualifiers, Fowler, 14, of Howland, plays regularly at the Trumbull Country Club. Asked if that be an advantage in the final, Fowler said, "Kinda, but it depends on how you're hitting it."
Fowler and Haylee Harford, another Warren JFK freshman, recently played in Mansfield at a PGA Junior event. Fowler said Thursday's extremely warm temperatures weren't a total shock.
"It was like 100 degrees every day," said Fowler of the PGA event.
Fowler said he woke up with the feeling that he'd shoot a competitive round.
"I had just played in [the heat] for four days."
Harford, 14, said the best thing to ignore the heat "was to drink as much water as you could and try to stick to it."
Clark's playoff ended quickly after he "took a driver and put it about 10 feet short of the green, then chipped up and hit a short putt. It was the best drive I hit all day."
Clark said heat was a factor for everyone.
"One of the kids in my group withdrew due to the heat," Clark said. "I was wearing through my gloves with sweat so the grip on the club was tough."
Clark said earning a spot was exciting, "but with the heat a little less exciting, a little bit more tired and happy to be done."
Clarke said he wore his rain grips all day because of the sweat.
"I drank a bunch of water and had a towel on my head the whole day," Clarke said.
In the girls division, Harford's 76 was second to Poland High senior Maria Mancini's 71. Sharpsville High senior Renee Cantrell was third at 78 and Howland High junior Hayleigh Guerrero was fourth with 88. Canfield's Christine Cooper shot an 87 but had already qualified for the final.
Cantrell said she expected conditions to be "much worse. Once I got going, I just kept [drinking] a steady supply of water and that kept me going. And we played at a decent pace."
Cantrell got off to a great start when she eagled number 12, the first hole of her shotgun start.
"That was my first," Cantrell said of the eagle. "I've come close in practice rounds. It was an exciting start for the day."
Mancini said her score surprised her a little after not sleeping well.
"I just couldn't fall asleep," said Mancini who added that she normally doesn't do well when she's tired. "This is unusual."
The hole that stood out for Mancini was the birdie she shot on number 14.
"It's a real short par 3, but it has a really big valley," Mancini said. "It's called the Death Valley hole."
Like most of Thursday's golfers, Mancini had not participated in the other tournament qualifiers. She said knowing she had one shot to qualify "added pressure, but I try not to think of that stuff at all."