The Clarks return for Covelli Centre festival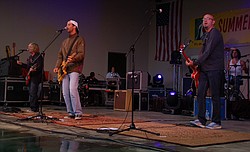 Photo
The Clarks at Mill Creek Metro Parks for the 7-UP Summerfest
By John Benson
There are many things The Clarks bassist Greg Joseph isn't sure of, but why his Pittsburgh-based rock act has lasted a quarter of a century isn't one of them.
"After 25 years, we're still having fun," said Joseph, calling from the Steel City. "I think we're still putting on a great rock 'n' roll show. It's not a downer type of show. It's always about being positive."
The band returns to Youngstown on Friday to perform at the Wing Fest outside Covelli Centre.
In the fall, the band will head to the studio to record what will be its ninth full-length effort. The project will act as a follow-up to its 2010 EP "Songs in G," which marked new ground for the quartet that as an independent rock act has sold more than a quarter- million albums. The six-track EP featured reinterpreted acoustic tracks from the band's past ("Shimmy Low," "Penny on the Floor," "Snowman") and was an Internet-only release.
Joseph said the reaction was mostly positive, pointing out that some die-hard fans prefer to have a physical copy of any release by The Clarks. Stylistically, the half dozen songs proved to be eye opening. In fact, looking ahead, he feels it'll have some influence over the next album.
"I'm always the last to anticipate where something goes, because it's funny, as soon as you pick a direction or think you know a direction, a song will come in that is totally off the map and change that whole thing," Joseph said. "So while that's kind of hard to predict, the EP — with its acoustic, alt-country sort of a playing — was fun to do. I can see that creeping into the new CD probably."
He quickly added, "But we're still excited about playing rock songs and upbeat tunes, and that's definitely a part of what this band is all about. I don't think you can avoid that element."
Actually, the rocking element is what first attracted local audiences to The Clarks. Early in its career, the band played Youngstown as its first shows outside Pittsburgh.
Joseph, who remembers great gigs at Cedars Lounge, said he is looking forward to playing and eating with sticky fingers from chicken wings.
"We love doing the outdoor summer shows. And I've been on a wing-eating binge. I'm going to go regular buffalo hot or the teriyaki."
Finally, on a related note, if The Clarks were a wing sauce, what would they be?
Quipped Joseph, "We'd be, as Quaker Steak & Lube calls them, the Louisiana Lickers — and I'm not sure why."