Temperatures approach record levels in Valley
RELATED: Seniors have many options to play it cool
Staff report
YOUNGSTOWN
It's unlikely temperature records will break, but the incredibly hot weather in the Mahoning Valley isn't going anywhere for several days.
Heat Wave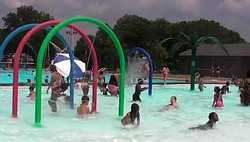 Video
A near record heat wave has settled on the Mahoning Valley.
And today is going to be the hottest of them all, said Mark Adams, a meteorologist with the National Weather Service in Cleveland.
The high temperature today for the Valley is expected to be 95 degrees, 13 degrees above normal, he said. Also, the heat index — which combines temperature and humidity — should hit 105 today, Adams said.
The high for Wednesday was 92 degrees with a heat index of 105.
"This is Texas, Arizona, New Mexico heat," said Mark Koontz, chief meteorologist for 21 WFMJ-TV, The Vindicator's broadcast partner. Today "will be the hottest day we've had in years."
It will "cool off a couple of
degrees" beginning Friday, with the high temperature expected to be 92 degrees with a 104 heat index, Adams said. The high temperature will decrease daily to 91 degrees Saturday, 89 degrees Sunday, 86 degrees Monday and 81 degrees Tuesday. The Tuesday high is actually 1 degree below the normal high for the area for July 26.
"Tuesday will feel like a cool wave," Koontz said.
Though the Valley will "get a little relief on Tuesday," Adams said, "it looks like we'll heat up again Wednesday," with an expected high of 86 degrees.
The average temperature for this time of the year in the Mahoning Valley is 81 degrees to 82 degrees, according to National Weather Service records.
With this type of heat, Koontz said to expect major thunderstorms during the afternoon that may result in "tons of rain in some areas" while other areas may receive no rain.
The record high temperatures for today to the end of the month for the area range from 95 degrees to 101 degrees. The hottest day on record in the Valley is July 10, 1936, when it hit 103 degrees.
KEEPING COOL
Perhaps the best way to stay cool in all of this heat is to visit a swimming pool.
Adestiny Williams, 5, had begged her grandmother, Jay Thomas, all day Tuesday to bring her to North Side Pool.
Fearing rain, Thomas assured her they would go the next day.
"It's just really hot, and I've been promising her to bring her to the pool all week," Thomas said.
Their sunny Wednesday started at 10:30 a.m. when Thomas boarded a bus by her West Side home to pick up her granddaughter in Boardman.
At 12:30 p.m., they finally arrived at the Belmont Avenue pool, stopping first for a Dairy Queen cone while they waited for the pool to open.
At the stroke of 1, Adestiny was the first swimmer in the pool when lifeguards gave the OK.
"The kids really enjoy the features here that we have in the pool," pool Manager Maria Mineo said.
The pool is maintained by the Youngstown Department of Parks and Recreation, which charges $1 for kids and $1.50 for adults to swim. The capacity at the pool is 300, but Mineo said they never reach that limit even on these hotter days.
With the especially hot weather this week, Mineo said bottled water — normally forbidden — will be allowed in the pool area.
The pool's six lifeguards avoid the heat with umbrellas and by getting in the pool themselves.
More swimmers jumped into the water as the day rolled on, including Teondre Wilson who was celebrating his fifth birthday with his uncle, Leonard Davison.
Wednesday was Davison's first time in North Side Pool in 15 years, and he said it was a welcome escape from the heat.
Thomas and Adestiny planned to end their day the same way it started, a trip to the Dairy Queen and a bus ride home.
Until then, Adestiny enjoyed the pool, even braving the deep end to get some swimming lessons from her grandmother.
"It's sad this is the only pool they have in Youngstown," Thomas said, recalling other pools in the city, including Borts Pool on the West Side, which closed in 2008.
RETAIL BOON
For those without access to a pool, staying cool can cost some money.
The relentless heat has caused many to dig deep into their pockets in an effort to stay cool.
Zachary VanBrocklin, an appliance salesman at hhgregg in Boardman, said the consumer-electronics store has sold four times as many air conditioners this week compared to a normal week.
"It's absolutely been insane," he said. "Especially with it being 90 degrees, they've been flying out the door.
VanBrocklin said sales have been split between standard window air conditioners, which cost between $130 and $395 based on cooling factors and newer portable air conditioners.
"They're excellent because you don't have to put them in the window and they're self evaporating," he said. "It's a convenience factor because you can take them from room to room."
Portable air conditioners, which also act as fans and dehumidifiers, range in price from $259 to $400.
Customers also took advantage of water-bottle sales and scooped up 36 bottle packs at Super Kmart in Niles. Store workers had to restock the shelves Wednesday afternoon.
WORKING WOES
A working air conditioner would be a welcome luxury for some Mahoning County employees.
Atty. Robert Bush, director of Mahoning County Jobs and Family Services, said many employees and clients inside Oakhill Renaissance Place were without air conditioning Wednesday.
Bush said two sections of the building, the front-desk area and Child Support Enforcement, were kept cool Wednesday by fans and small cooling units.
He said those affected by the heat were given a 30-minute break to cool off in air-conditioned conference rooms.
"We're going to try to move clients also into that room while they wait, which is totally air conditioned," he said. "Talking to the staff, they appreciate any efforts we can make."
Bush said though the building has experienced air-conditioning issues recently; it was supposed to be fixed. He said the problems occur where the old system connects to the new.
"The old system connects the new system and they're losing the airflow. ... But they can't determine why they're losing the airflow in that area," he said. "It's unacceptable, and it is being worked on."
A HOT HOUSE
Another place coping with the heat without air conditioning is Lonardo's Greenhouse and Fresh Produce Market on Southern Boulevard in Boardman.
Manager Donna Lonardo said this summer's heat seems to be "exceptional."
Greenhouse employees pick crops growing inside the greenhouse first thing in the morning before the temperature rises and the rest of the day is spent harvesting in open fields, she said.
Lonardo added that the plants are watered twice a day instead of once a day or every other day. The side walls and ceiling of the greenhouse are opened to circulate cooler air around the plants.
Otherwise "they would be toast," she said.
Not only is Lonardo concerned about plants but also the workers who tend to them.
"We keep a lot of bottled water and Gatorade on hand for our employees and have them take breaks," she said.
Contributors: Staff writers David Skolnick, Karl Henkel, Ashley Luthern, Elise Franco and Joe Giesey.