Plans get under way for home for homeless vets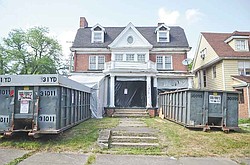 Photo
Asbestos abatement is under way in a vacant six-unit apartment building at 212 Broadway on the north side of Wick Park, which is to become a home for homeless veterans. The Youngstown Metropolitan Housing Authority bought the structure for this use for $35,500 at a sheriff 's sale.
YOUNGSTOWN
A Youngstown municipal judge and the Youngstown Metropolitan Housing Authority have entered into a partnership to develop a home for homeless veterans on the city's North Side.
The housing authority bought a vacant, six-unit apartment building at 212 Broadway at a sheriff's sale for $35,500 last October and awarded an asbestos-abatement contract for that building in June to Environmental Protection Systems LLC of Girard.
"It's the right thing to do. ... Those folks have served our country, and, I think, when they come back home, they need a place where they can re-establish themselves, if need be, and have some kind of support services," said Clifford Scott, former director of the Youngstown Metropolitan Housing Authority.
"There is a lack of housing for homeless veterans in this community," said Scott, who left YMHA on Monday to become director of the Omaha Housing Authority in Nebraska.
"It's owed to them because there's no segment of society that sacrifices as much," said Judge Robert P. Milich of Youngstown Municipal Court, a retired Air Force lieutenant colonel.
Veterans living in the home would be referred to any services they might need, such as mental-health or substance-abuse treatment, the U.S. Department of Veteran's Affairs medical clinic or job-training services, Scott said.
The housing authority will operate the veterans' residence, whose occupants would have a case manager overseeing services provided to them, Scott said.
After YMHA renovates the building using federal funds, Judge Milich, who presides over veterans' court here, said he hopes the structure can open to veterans nine months to a year from now.
Scott and Judge Milich said they do not know how many homeless veterans live here. "We don't know for sure," because the U.S. Census Bureau doesn't provide specific information that answers this question, the judge said.
The judge said many veterans live with relatives or friends and move frequently. "Almost half of the veterans we deal with in the veterans' court have homeless issues. That's part of the problem — getting them a stable home," the judge said. "If you give them a stable home, that gives you an anchor to build on."
Veterans' court will refer veterans to the Broadway home, where they will live in an independent apartment-style setting, with their rents being federally subsidized.
One or two veterans will live in each apartment, with one of the veterans possibly serving as a resident manager for the building, he said.
In veterans' court, which began operating in January, veterans can have criminal charges reduced or dismissed if they follow a court-ordered treatment program, such as a drug-addiction treatment program.
Under current regulations governing the housing authority, "there is no way that we could take a veteran over and give them any preference" on waiting lists for current subsidized housing here, Judge Milich added.