Head of Public Library of Youngstown and Mahoning County to step down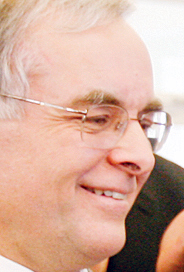 Photo
By Sean Barron
YOUNGSTOWN
Carlton A. Sears has announced his resignation as director of the Public Library of Youngstown and Mahoning County, effective March 30.
During a special meeting Wednesday, the board of trustees accepted the resignation of Sears, who began his career with the library system in February 1997.
"Those that know me know that public libraries are more than a profession to me," he said in a press release, adding that he's worked 38 years in the field.
Sears said he's pleased with the system's financial situation, which was aided by the November 2010 passage of a five-year, 1.8-mill levy. Also helping the library was the settlement of new employee contracts, he added.
"The library's financial footing is the strongest it has been in many years," Sears said. "The library is well positioned to move forward on a number of stimulating projects that have been anticipated for many years."
Sears' main reason for stepping down is to allow him to work more closely with the Harwood Institute for Public Innovation, a Bethesda, Md.-based, nonprofit and nonpartisan organization that encourages and guides people toward using their ideas for the betterment of their communities.
Another reason is because the next director will need time to get to know the community and library personnel before having to deal with financial issues, he continued.
Sears explained that it would be too difficult to work for Harwood and continue as library director.
Over the years, Sears kept a focus on improving numerous library functions, including cost-effective services, improved technology and literacy programs. Among his other accomplishments are the addition of five branches, greater community input related to the system and the incorporation of residents' ideas into library plans and strategies.
In addition to being library director, Sears served as founding board member for Wick Neighbors Inc.; past president of the Rotary Club of Youngstown; executive committee member of the Salvation Army of Mahoning County; and founding member and co-chairman of the Mahoning County Financial Stability Partnership Finance Committee.
In other business, trustees agreed to advertise for bids to repair roughly 10,500 square feet of the main library's roof. The estimate is $170,000 to $180,000, Sears noted, adding that he hopes work to the Wick Avenue facility will be wrapped up by winter.