Chico's handler to remain on the job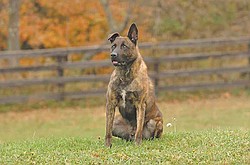 Photo
Chico, a Dutch shepherd, trained to serve as a police dog by Tri-State Canine Services of Trumbull County for the city of New Castle. The dog died Saturday after being left in a cruiser for two hours in 90-degree temperatures.
Chico Memorial Service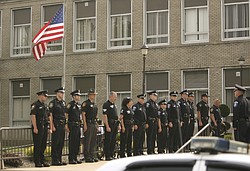 Gallery
NEW CASTLE, Pa. — Nearly 50 police dog units from a 99-mile radius from around the state, came here today to pay tribute to Chico, the 6-year-old Dutch shepherd, found unresponsive by his handler in the back of a hot, parked cruiser Saturday
By Jeanne Starmack
New Castle, pa.
A police K-9 officer whose dog died after being in an overheated car can keep his job, city council has decided.
Officer James Hoyland will continue his unpaid suspension until it totals 60 days. He has been suspended since June 6. He can never be a K-9 handler again, and he must make financial restitution for the dog before he comes back. Police Chief Tom Sansone said that restitution could total as much as $10,000, including the cost of training.
Sansone said the city police department is going to make changes, too. He's hoping to upgrade a "hot box" system in the city's four police cars with one that is automatic.
"You don't have to worry about turning switches on or off," Sansone said at the city building Wednesday evening while council was deliberating in a closed meeting about what, if anything, Hoyland's punishment should be.
Hoyland's dog, a 4-year-old Dutch shepherd named Chico, died June 5 after being left alone in Hoyland's cruiser for 3 hours and 45 minutes.
Sansone said Hoyland doesn't remember if he turned the hot box on before he left the dog in the police station parking lot to work an extra shift for the city housing authority.
Sansone said, however, that the system was not turned on because it sounds an alarm and lowers the windows if the temperature gets too high in the car. Hoyland did leave the car running and the air conditioning on. But after about two hours of idling, the air conditioning stopped working, Sansone said.
Hoyland returned from his extra shift about 8 p.m. to find Chico overcome from the heat. The dog died despite being rushed to a veterinarian.
Council heard testimony in the case behind closed doors. State law allows personnel matters to be discussed in what's referred to as an "executive," or closed session.
Hoyland could have requested that the hearing be open, Sansone said, but he did not.
He could have had union representation at the meeting if he'd requested an open hearing, but because he did not, a union representative wasn't present, Sansone said.
Hoyland himself was not present.
City council members made a motion and took a vote on Hoyland's punishment in an open session after the hearing.
Members said it was a hard decision. The vote was 3-2 in favor of the 60-day suspension. Karen DeCarlo and Edward Yerage cast the two "no" votes. They declined to say why.
Several council members said there was clearly no intent on Hoyland's part to hurt his dog, but he was negligent.
Council President MaryAnne Gavrile told about 20 police officers who were there to support Hoyland that council "appreciates their efforts and their time."
"We try to base our decisions on what is best for the community," she said.
Sansone said he did not make a recommendation to council before its decision.
"I have mixed feelings," he said. "It's very hard. If he'd been a bad officer, it would be easy," he said, adding that Hoyland has been a good officer.