Youngstown Rugby Club growing into competitive program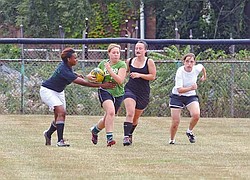 Photo
The Youngstown Rugby Club practices recently at Harrison Field. Jenni Nemes, second from left, runs with the ball, as Tim'Aira Gandy, left, Tiphanie Kalista, second from right, and Becky Coyne give chase.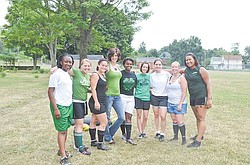 Photo
Some members of the Youngstown Rugby Club are, from left, Kaneesha Tensley, Jenni Nemes, Tiphanie Kalista, Katelyn Bowden, Tim'Aira Gandy, Jerica Napoleon, Becky Coyne, Liz Prelac and Mercela Jones.
YOUNGSTOWN WOMEN'S RUGBY CLUB
President: Katelyn Bowden, 25 (Canfield)
Coach: Shawn McClellan, 24 (Campbell)
Vice president: Lynn Sabeh, 26 (Andover)
VP/treasurer: Liz Prelac, 24 (Hubbard)
Game-play manager/captain: Tim'Aira Gandy, 21 (Boardman, originally from Montgomery, Ala.)
Pack captain: Jennifer Waltman, 23 (Austintown)
Secretary: Jerica Napoleon, 24 (Girard)
Players: Cassie Dempsey, 21 (Mineral Ridge), Gina Burns, 22 (Poland), Becky Coyne, 25 (Boardman), Samantha Ann Sander, 21 (Austintown), Tiphanie Kalista, 21 (Austintown), Chantelle Cowher, 23 (Boardman), Kaneesha E. Tensley, 19 (Youngstown).
Note: On Aug. 13, the team plays Akron at the Stitt Pavilion area off Golf Drive between Rt. 224 and Shields Rd. The women will also appear at the Pabstolutely concert, outside the Royal Oaks on Sept. 10. As a sponsor, they will sell T-shirts to raise funds for the team.
Facebook: The team may be added by typing in Youngstown Women's Rugby Club.
John Bassetti
The Youngstown Rugby Club is growing into a competitive program
YOUNGSTOWN
Harrison Field has pretty much stayed the same over the last 50 years, while radical changes have taken place around it in Smoky Hollow.
In recent years, neighborhood homes were razed and replaced by university buildings and facilities, student housing and an expanded MVR business.
Just a few weeks ago, Harrison Commons was christened with a jazz festival as part of YSU's annual arts celebration.
Even more radical is Harrison's use for practices by the Youngstown Women's Rugby Club.
After a 11/2-year existence, the team for women 18-and-over is starting to get some recognition.
"We're growing with every practice," said Katelyn Bowden, club president, who was an early member when the team was first organized.
The 2003 Canfield High graduate admits that she wasn't a jock in high school.
"I played dodgeball and ran track, but, before rugby, I was not all that athletic," she said."
Bowden gravitated to the Youngstown Women's Rugby Club after she had her first baby, now 21/2 years old.
"My daughter was about a year old when I joined," said Bowden, now 25. "I needed to do something because I had [gained] baby weight."
Her genes also lend themselves to such endeavors.
"My dad played rugby, so I thought I'd give it a shot. The minute I stepped out on that pitch, it's like no other experience," she said.
Bowden is pregnant again, but she remains involved as an officer.
"I want to promote because it changed my life and I want to see it do the same for other women," she said.
The team carries a regular roster of 14, but it grows a bit for games.
The oldest player is 31.
"If there's a 45-year-old who wants to come out, we'd love to have her," Bowden said.
However, she cautioned that injury-prone individuals need not apply.
"We don't want to see anyone get hurt."
Bowden said some of the best players she's seen are in their 40s because they've got experience.
"It's a tough game and there's a lot of details that you have to learn," she said. "It takes time."
Personality type is a factor in a woman's decision to play rugby.
"They're usually outgoing, friendly and not squeamish," Bowden said. "They have to have a little bit of aggression they went to get out. We're a certain breed. Usually, people have that certain spark in their personality and say, 'Hey, I want to try this, it sounds like fun.' Generally, rugby girls may have been tomboys and athletic growing up. But we also have some girlie-girls who want to go out and tackle and be aggressive."
The women play with no visible protection, although scrum helmets are optional.
"It's girls who, back in the day, weren't afraid to pick up a worm and scare the other girls with it or tackle boys on the playground," said Bowden.
Her father, Bill Bowden, played football at Cardinal Mooney and was also a Golden Gloves boxing champion. He was one of the original members of the Steel Valley Rugby Club.
A brother, Beau, plays for the men's team in Youngstown.
"Rugby runs in my blood," Katelyn Bowden said.
Youngstown plays teams from Cleveland, Erie, Chardon, Akron and Kent. Home games take place in Mill Creek Park.
The women's team struggled last year, but found some success so far this season, including a runner-up finish in Morgantown, W. Va., three weeks ago.
"The only team that beat us was the Pittsburgh Angels," Bowden said. "Sometimes it takes 2 or 3 years for a team to win once. Second place doesn't sound like a lot, but when you play those teams that have had players together for 6 or 7 years, a runner-up finish is a big deal. And they only beat us by a few points."
Bowden said Youngstown is close to joining the Ohio Rugby Union.
"It takes a while and we think we're finally able to get it done," she said. "We'll have a rigorous fall schedule with only a few bye weeks."
They practice three times a week, at Harrison and once at Austintown Township Park.
"If you attend all three, you are sweating and losing weight and staying in shape," Bowden said. "Our practices consist of sprinting for two straight hours."
There's also one diabetic member.
"Her goal is to lose weight and she's already lost about 20 pounds in three months," Bowden said. "That's a big deal for someone who has diabetes and we're all really proud of her."
Bowden said Youngstown is a team to watch this fall.
"We'll be a bunch of gorgeous women throwing each other in the mud. You can't go wrong with that."
More like this from vindy.com