Peace Corps volunteer from Austintown has no regrets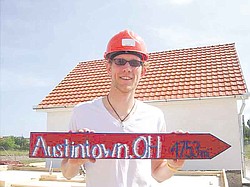 Photo
Justin Setty of Austintown joined the Peace Corps nearly two years ago and was sent to Romania, where he teaches English as a foreign language.
By Elise Franco
Austintown
Justin Setty's decision to join the Peace Corps was a quick one that he hasn't regretted for a second.
Setty, 26, of Austintown, joined the Peace Corps nearly two years ago, in August 2009, and was sent to Romania, where he teaches English as a foreign language.
In connection with his teaching assignment, he said he's worked as a teacher and counselor at English summer camps and as a resource for pre-service training for incoming Peace Corps volunteers.
He said he joined the Corps because he wasn't satisfied with the volunteer work he'd done up to that point.
"I felt a strong desire to become involved in some type of long-term service," he said in an email interview last week. "I also wanted to learn more about the world and myself."
In June, Setty and about 50 other Peace Corps volunteers built a house for a Romanian family. The build was done in conjunction with Habitat For Humanity and was part of the Peace Corps' 50th anniversary observance.
Setty said knowing he was a part of giving the family of four a new place to live was an untouchable feeling.
"It was an awesome experience for me to be able to help with the construction of their home," he said. "My individual contribution was very small, but it was a little extra push in a project that has drastically changed a family's quality of life."
The crew spent five days working, and in the end, Marcel Petrus; his wife, Alina; and their sons, Alin, 13, and Claudiu, 7; had a new place to live.
"How do you thank someone that comes all the way from America just to help you? They are like guardian angels," Alina Petrus said in a Peace Corps news release.
Setty said the build was just one of many experiences he'll never forget during his tenure.
He said one of the most memorable moments for him is watching a particular student begin to come out of her shell.
"One of my quieter, lower- level students started smiling in class. ... She started participating a lot more this past year, like," he said. "Indications of progress are really hard to find, and this is one that stood out."
Setty's father, Rick Setty of Austintown, said his son's desire to help others is a quality he's always possessed.
"All three of our kids have specifically sought out opportunities where they can gain new experiences and interact in some way very positively," he said. "Justin got in with good groups of kids who were motivated, and he's never shied away from opportunities to lend a hand."
Rick Setty said he and his wife, Joan, were caught off-guard when their son first told them of his plans to join the Peace Corps.
"My wife and I were sitting on the back porch when he came out and said he had something to tell us," he said. "We were looking at each other thinking, 'Where did that come from?'"
But Rick Setty said the experience and lessons his son will bring back to the states will undoubtedly stay with him forever.
"This is probably going to be one the of highlights of his life," Rick Setty said. "I think this experience has given him more of a world-view. He's not just concentrated on his own self-advancement.
"I think all of this will help give him a better perspective of his lifestyle and how he's going to live his life once he gets back home."
Justin Setty will continue his work in Romania until 2013. He said he hopes his time there will leave a lasting impression.
"I think this work is important because Americans get to show the world that we answer the call to serve others," he said. "Host countries decide how volunteers serve, and we are able to work side-by-side with people who want the same things in life that we do."