Anthony's uncle from Canfield denies reports Casey is in Valley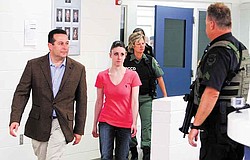 Photo
Casey Anthony exits Orange County Jail early Sunday.
Local and wire reports
ORLANDO, Fla.
This is what freedom looks like for Casey Anthony: $537.68 from her jail account, no job, estranged parents, a criminal record, lawsuits pending against her and the scorn of multitudes who think she got away with murder.
She quickly gave reporters the slip after walking out of jail Sunday, but whatever life she manages to build for herself will be lived under a media microscope and the shadow of countless threats.
That media scrutiny extended into the Mahoning Valley once again this weekend with local and national speculation that Casey may have made her way back to her birthplace.
Mahoning Valley auto dealer Chuck Eddy, Casey Anthony's uncle, said neither he nor Anthony's parents, George and Cindy Anthony, know where Casey was headed after her release from jail. But he does not believe she is coming to the this area.
Eddy's wife, Kathy, is the sister of George Anthony, Casey's father.
"I don't know where (Casey) is and neither does George," Eddy told The Vindicator on Sunday evening. "She could be across the street from George, and he wouldn't know it."
Eddy said he stays in contact with his brother-in-law and was with the Anthonys when the 25-year-old was found not guilty of killing her 2-year-old daughter, Caylee, but convicted of lying to investigators.
In Florida on Sunday, Casey walked out the front door of an Orlando-area jail shortly after midnight, wearing a pink T-shirt, blue jeans and sneakers, and escorted by sheriff's deputies holding semi-automatic rifles. Protesters shouted "baby killer" and "you suck" as she climbed into an SUV.
The vehicle sped away and darted into a parking garage at a building where one of her attorneys has offices. Where she went next is unknown.
Soon after her release, there was police activity at Orlando Executive Airport as two vehicles pulled up to a twin-engine private jet bound for Columbus, Ohio, but no one saw Anthony get out and onto the plane. Ohio is the home state of Anthony's parents, but an official at the Columbus airport said the aircraft was only carrying golfers back from a Florida vacation.
at his niece's defense team may have been responsible for the rumor that Casey, who was born in Warren and whose family lived in Howland before moving to Florida, was en route to the arren area.
"I would not be surprised if (the defense attorneys) might have started the rumors just to throw the media off the track," he said.
Eddy said that he and his wife have had no contact with Casey Anthony since before Caylee Anthony's disappearance. Eddy said he is supportive of George Anthony and still angry about the defense team's allegations during the trial that his brother-in-law molested Casey.
Her lead attorney, Jose Baez, did not respond Sunday to email and phone messages left by The Associated Press, nor did other lawyers on her defense team and those representing her father and mother.