Obama to nominate ex-Ohio Attorney General Cordray to top consumer post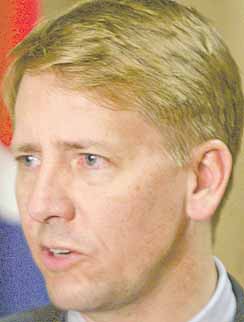 Photo
Former Ohio Attorney General Richard Cordray
Associated Press
WASHINGTON
President Barack Obama intends to nominate former Ohio Attorney General Richard Cordray to lead a new consumer financial protection bureau that was a central feature of a law that overhauled banking regulations.
Obama plans to announce the nomination formally on Monday, the White House said in a statement Sunday.
In choosing Cordray, Obama bypassed Elizabeth Warren, a favorite of consumer groups, who has been assembling the agency as a special adviser to the White House and to Treasury Secretary Timothy Geithner.
The agency will officially begin its oversight and regulatory work on July 21. Its role is to be a government watchdog over mortgages, credit cards and other forms of lending.
"Richard Cordray has spent his career advocating for middle-class families, from his tenure as Ohio's attorney general, to his most recent role as heading up the enforcement division at the CFPB and looking out for ordinary people in our financial system," Obama said in a statement.
Cordray would have to be confirmed by the Senate. Warren, who is considered the architect of the consumer bureau, faced opposition in the Senate and would have had a difficult time wining confirmation.
Cordray, 52, is considered a Warren ally and has been working with her as director of enforcement for the agency.
The appointment was first reported by the Columbus Dispatch.
Republicans fought fiercely against the creation of the bureau last year and have been trying to place restrictions on the agency. In May, all Senate Republicans joined in a letter to Obama threatening to withhold their support for any nominee to the position if the White House didn't seek significant changes to the agency.
Among the changes would be to replace a single director with a board and to make the bureau's finances subject to congressional approval.
"The White House has not yet addressed the need to bring accountability and transparency to the bureau," Don Stewart, a spokesman for Senate Republican leader Mitch McConnell, said today.
The Progressive Change Campaign Committee, which had backed Warren, issued a statement supporting Cordray.
"With her track record of standing up to Wall Street and fighting for consumers, Elizabeth Warren was the best qualified to lead this bureau that she conceived — and we imagine Richard Cordray would agree," said the committee's co-founder, Stephanie Taylor. "That said, Rich Cordray has been a strong ally of Elizabeth Warren's and we hope he will continue her legacy of holding Wall Street accountable."
Though Democrats control the Senate, Republicans could block the appointment through a filibuster.