Published: Sun, July 17, 2011 @ 12:01 a.m.
RELATED: Riding with Boardman police reveals a cross-section of crime
Boardman Police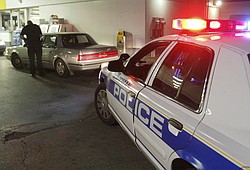 Gallery
Boardman Police Department on Patrol.
Boardman P.D. On Patrol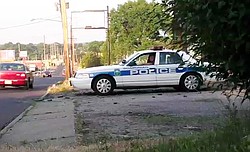 Video
Boardman Police officers say they spend time and resources on crimes committed by individuals who are not residents of Boardman.
By Ashley Luthern
aluthern@vindy.com
BOARDMAN
It's a typical night for Boardman Township police.
Officers stop a man who circled the block where a theft was reported 20 minutes earlier. They find marijuana and an empty gun holster in the car. The man is issued a citation for drug possession and fails a field sobriety test by a slight margin.
The officer allows him to call for a ride to his listed residence on Nelson Avenue in Youngstown, but after trying one phone number, the man simply says, "Take me to jail."
He's not the only person from outside the township arrested that day.
Earlier, police arrested a Struthers woman on a warrant for probation violation and a Youngstown man for domestic violence at Walmart.
Crime in Boardman is a topic taking on more significance as township residents prepare to cast ballots Aug. 2 to decide the fate of a 3.85-mill, five-year additional police levy. The levy would generate about $3.8 million annually for the police department, which has a $7.1 million budget for 2011.
Levy materials argue that more police are needed to keep criminals out of Boardman — and as a Vindicator investigation shows, the majority of people arrested for violent crimes are from outside the township.
The Vindicator specifically tracked adult arrests from May 2009 through May 2011 for violent crime, ranging from aggravated menacing to attempted murder, and property crimes, such as burglary and robbery, noting where the offense occurred and where the suspect resided.
Much of the violent crime reported in Boardman is near the intersections of U.S. Route 224 and Market Street near the Southern Park Mall as well as commercial areas near Interstate 680. Crime also occurs more often north of Route 224.
From May 2009 through May 2010, Boardman police arrested 118 people for those types of crimes. Of the 118 arrested, 38 were township residents and 80 lived outside of the township — 54 of them listing a Youngstown address.
From June 2010 through May 2011, there were 115 arrests for violent or property crimes. The split between township and nontownship residents arrested was more even, with 56 listing a Boardman address. Of the remaining 59 nontownship arrests, 33 gave police a Youngstown address.
Police Chief Jack Nichols said the township has gathering places, such as bars, and restaurants, and stores that provide opportunities for crime.
"Of course, we border the South Side of Youngstown and I don't have to tell you that the South Side of Youngstown is a pretty rough place, and that's where we try to draw the line and hold crime at bay as best we can," said Nichols.
Youngstown Police Chief Jimmy Hughes said it is not uncommon for YPD to follow suspects into Boardman to make arrests and vice versa.
"We have a good working relationship. We share resources and assist each other," Hughes said of his department and BPD.
Ralph Meacham lives in the northern part of the township known collectively as The Glen, and said from his experience, the area isn't any worse than other sections of Boardman.
"There is some migration coming across as some of the housing is deteriorating in certain parts of the region, and sometimes that brings problems with it," said Meacham, who is president of the North Boardman Block Watch.
Other township residents have said that violent crime is centered around a few incidences, pointing to a home on Mill Creek Boulevard that was the scene of a shooting in April 2010. Casimirio Ellis of Youngstown was charged with attempted murder in connection with the shooting of Alynn Grant of Youngstown, who was later charged with drug trafficking, at the residence.
"It only takes a few individuals to create havoc in a community. ...We need more policemen on the road. I know that's a real simplistic answer, but that's the only way I can answer," said Trustee Larry Moliterno.
The trustees have said if voters approve the police levy, 10 patrolmen would be hired over the next two years boosting staffing to 57 sworn officers.
But increasing officers to lower crime isn't as clear-cut as it appears, says Larry J. Siegel, a professor of criminal justice and criminology at the University of Massachusetts, Lowell.
"Nobody's done the definitive study about it," said Siegel, who has authored 15 books about justice topics.
"Crime rates can go up when you see more cops. People think maybe I'll report crimes because things will get a response," he said, adding that more police on the road means they are more likely to see crimes in progress.
Another problem with adding more officers is that instead of curbing crime, it displaces it.
"If you were a criminal ... and saw a cop on a corner, would you continue to commit crime on that corner? You're not stupid. You'd go some other place," he said.
"Then people will say since the cop has been here crime has gone down. Once you take the crime away and keep the cops, people might say it's a waste of money. If you pull [cops] out, criminals say, 'Wow, it's safe to go back in the water.' It's really tricky," Siegel said.
The U.S. Bureau of Justice Statistics surveys municipal and township police departments every few years. In 2007, it found that departments employed an average 2.3 full-time officers per 1,000 residents. Another ratio often cited seems to be one officer per 1,000 residents.
Boardman, one of Ohio's largest urban townships with a population of 40,889, has a ratio of about 1.1 officers per 1,000 residents.
However, using ratios could be difficult because the township's daytime population swells from 40,000 to 100,000, according to traffic studies.
Asked if there's an average ratio for number of police officers to population, Siegel said: "To be perfectly honest, there's no exact ratio. It depends on the city, with more crime you have more cops."
The Boardman Police Department has 47 sworn officers with salaries ranging from about $33,000 to $90,000 annually.
Although adding police officers "causes crime to be displaced or be temporarily disrupted, the social factors that create gangs and drugs don't go away," Siegel said.
Nichols said that drugs, particularly heroin, are a large problem for the township. He estimates that 80 percent of retail theft is related to drugs as people steal merchandise to trade for drugs or cash to buy drugs.
"The same people that we catch committing retail theft are the house burglars and robbers. There's just less risk for them to commit their crime at retail theft level than burglary level," Nichols said, adding his department's policy is to "arrest as many as you can for as much as you can as often as you can."
Nichols said the department divides the township into four districts, but that some nights, officers don't spend much time in their districts.
"People say the best battle plan only survives the first shot, and after that, it falls apart," he said. "That's like with us. We get busy and you gotta go where you have to go."