Scrappers rally from four-run deficit to beat Connecticut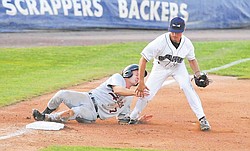 Photo
Mahoning Scrappers third baseman KC Serna hangs on to the ball as Connecticut Tigers baserunner Colin Kaline tries to take him out with a slide during their New York-Penn League baseball game Thursday at Eastwood Field in Niles. The Scrappers rallied from a four-run defi cit, scoring five runs in the sixth inning and going on to defeat the Tigers, 9-6.
By Tom Williams
NILES
There's quite like a five-run sixth inning to wipe out a horrible start and propel a team into first place.
After falling behind 4-0 before their first swing of a bat, the Mahoning Valley Scrappers rallied for Thursday's 9-6 victory over the Connecticut Tigers at Eastwood Field. The victory ties the Scrappers (16-11) with the Jamestown Jammers atop the New York-Penn League's Pinckney Division.
Todd Hankins' two-run single and Cody Elliott's two-run double — both with two outs off Tigers reliever Jeff Barfield — capped a five-run outburst that gave the Scrappers a four-run lead.
"Two-out RBIs are huge," Scrappers manager Dave Wallace said. "Those were big hits for us. Hankins did that with two strikes, just fighting to put the ball into play. He didn't hit it that hard, but he found a way to put it in the hole."
Trailing 5-4 in the sixth, Jordan Smith's one-out single scored KC Serna to eliminate the Tigers' early advantage.
John Barr then singled to right field, advancing Smith to third base. After Barfield relieved starter Matt Crouse, Alex Lavisky's ground ball to Tigers third baseman Jason King put Smith in a rundown for the second out.
But Jerrod Sabourin kept the rally going with a walk to load the bases. Hankins singled up the middle to score Barr and Lavisky for a two-run lead. Elliott's double into the right-field corner made it 9-5.
"I got to two strikes so at that point I wasn't trying to do too much," Hankins said. "I got a breaking ball and luckily I was waiting for it and it got through.
"I've had a couple of balls stopped by the pitcher so I was just hoping to get it by him."
Hankins said the early deficit wasn't overwhelming.
"You obviously don't want to be giving up four runs in the first inning of every game, but with the bats we have our team can put together a rally at any point in the game no matter how many runs we are down by," the Scrappers second baseman said.
"We've had more walk-offs on this team than all the other teams I've played on combined," Hankins said. "It just seems that we are coming back a lot."
The comeback offset a rough start by Scrappers pitcher Harold Guerrero who didn't get out of the fourth inning after allowing five runs.
Guerrero threw 28 pitches in the first inning. Of the 77 he tossed, only 32 were strikes.
"We have to figure out how to get Harold off to a better start," Wallace said.
Almost lost in the spotlight of the comeback were two sharp plays by third baseman KC Serna that helped keep the Tigers from running away in the fourth inning.
With the bases loaded and none put, Serna fielded a grounder off the bat of Bo McClendon, stepped on third base to retire Edwin Gomez then threw to first base for a double play.
Serna thought about trying to nail Matt Perry running home.
"It was hit pretty well toward the bag so I thought that would be the best option," said Serna of his decision. "It worked out for us."
Serna then bobbled a ground ball off the bat of Chad Wright but alertly tagged Colin Kaline trying to advance for the final out.