Briar Rantilla's mural accents assets of downtown Warren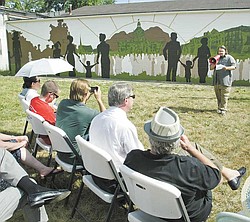 Photo
Artist Briar Rantilla of Warren speaks during a dedication ceremony for a mural of downtown Warren that he created on a building at 310 Elm Road NE in Warren.
By ED RUNYAN
runyan@vindy.com
WARREN
When conceptualizing a mural for Warren, Briar Rantilla saw an opportunity to show the city in ways both nostalgic and hopeful.
From his earliest recollections and photos of the city, the 34-year-old Farmdale native now living in Warren stored up images of the
Trumbull County Courthouse and nearby Park Avenue remaining unchanged despite the passage of time.
"I started looking at old pictures of Trumbull County — the outfits changed, but the Courthouse and Park Avenue have remained the same for years," he said standing near the mural Thursday.
"The figures are all shown from behind, and everybody's facing the same direction. Everybody's going downtown, and you feel like you're a part of it," he said.
"A lot of people are leaving our community, so I wanted to show people coming into the city — a positive thing."
Rantilla said the mural isn't a photographic representation of the scene — he imagined what the scene would look like if he were standing on the south end of Courthouse Square looking at the courthouse without any of the buildings on West Market Street obstructing his view.
Rantilla's vision was the overwhelming choice of the public balloting that took place at Trumbull Art Gallery several months ago, said Matt Martin of the Trumbull Neighborhood Partnership.
The partnership, TAG and Fine Arts Council of Trumbull County sponsored the contest to improve the quality of life in Warren and surrounding communities, especially where vacant space and buildings are, Martin said.
Rantilla's mural, on the 53-by-10-foot wall on the side of a vacant building at 310 Elm Road N.E., is the "first of many" the groups hope to produce, Martin said.
The wall's dimensions make the mural look like a billboard, Rantilla observed, adding that the wall was prepared for him by the neighborhood partnership. Sherwin Williams provided the paint.
It was challenging to paint the image, Rantilla said, because there was no running water or electricity available.
He used the Photoshop program to superimpose the bricks of the wall onto his design, and used that to provide the scale for the art.
Rantilla said he enjoyed meeting some of the neighborhood children and residents, who took a special interest in what he was doing.
"I can really see the artist's point of view," one man said to Rantilla as he stopped for a few moments on his way down the Elm Road sidewalk, with a broad smile across his face.