Mule Bone takes album in stride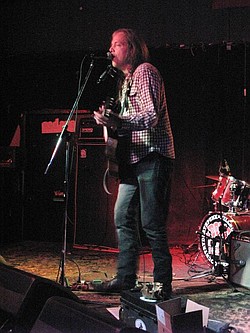 Photo
Hugh Pool of Mulebone, Nov. 26, 2010 at Cedar's Lounge.
If you go
Who: Mule Bone
When: 10 tonight
Where: Cedars Lounge,
23 N. Hazel St., Youngstown
Info: Call 330-743-6560
By John Benson
Albums come from the most unlikely of places. That's what acoustic blues-roots act Mule Bone — Hugh Pool (vocals, guitar) and multi-instrumentalist extraordinaire John Ragusa (conch shell, Jews harp, cornet, flutes, tin whistle) — found out recently with its latest effort, "Bluesville Sessions."
"When we released our last album, 'New Morning,' the record got up to No. 4 on Sirius/XM's 'BB King's Bluesville' channel," said Mars, Pa., native Pool, who has called New York City home for the past 25 years. "At one point, we were invited to their studios to do what we thought was an interview. But when we got there, they had a full studio with engineers waiting. The problem was we didn't have anything prepared. It was a little bit of, 'Ah geez,' but then we just looked at each other and said, 'Let's just play like we're doing a gig.' So we ended up recording for hours, and that's basically the record."
The 11-track affair, which was recorded live without any overdubs, is a hodge-podge effort with a few "New Morning" tunes, a few more Pool originals from his past and choice covers (Led Zeppelin and Van Morrison). Pool laughs because he had no intention of releasing the impromptu recording session. However, the more he listened to it, the better the material sounded.
As for the next proper Mule Bone studio release, the plan is to start recording next winter. Pool already is road-testing the politically charged "Toe That Line" track.
"It's a song about The Man trying to keep the common man in an impoverished state," Pool said. "It's a song about increased service fees, increased interest rates on your credit card, the top 1 percent having the same amount of wealth as the bottom 50 percent. It's a song about fiduciary injustice in the world we live in."
The new track might get played at his return to Youngstown tonight at Cedars Lounge.
Pool said he's created quite a fan base in the Northeast Ohio area over the past decade.
"They're coming out because we throw out a damn lot of entertainment for two guys," Pool said, laughing.
Something that has proved entertaining for Pool of late is simply people watching from outside of his Williamsburg home in Brooklyn. Over the past few years, Williamsburg has become the epicenter of trendy for hipsters and up-and-coming musicians.
"There's a lot of kids walking around here looking like I did 15 or 20 years ago, wearing T-shirts and flannel, and drinking PBR," Pool said. "It's sort of humorous. These are kids from the burbs trying to get a little taste of New York. I think they're just searching for some kind of American-type of authenticity."
When Pool is asked what kind of authenticity he possesses, his answer in part explains why his music continues to find a home in the Rust Belt.
"Dude, I dyed the wool," Pool said. "My dad worked for U.S. Steel; my grandfather worked for Heinz. I grew up with a chain saw. I'm there. That's what I am."