Canfield softball tops defending champs in D2 championship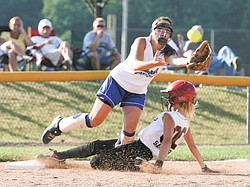 Photo
Canfi eld outfi elder Allie Samarco safely steals third base as Poland third baseman Gina Ungaro fi elds the ball during the bottom of the second inning Tuesday against the Bulldogs. The Cardinalswon 11-5 to gain the Little League Ohio District 2 championship.
By Greg Gulas
BOARDMAN
Last season, the Poland All-Stars advanced to Portland, Ore., and the semifinal round of the Little League Softball World Series.
With only two players from that team returning this season, manager David Marsico knew it would be a challenge to repeat as district champions, let alone make a return trip to the west coast.
Canfield (4-0), on the other hand, defeated Poland (3-2) by a 6-3 count on July 7, knowing all it needed was one more win to wrest the title from the defending champions.
Falling behind by three runs in the first inning didn't seem to faze Canfield as it rallied to stop Poland, 11-5 to earn the District 2 championship Tuesday at Boardman's Fields of Dreams.
The Cardinals advanced to the opening round of the state tournament today in Elyria where they will take on District 3 champion Tallmadge at 5:30 p.m.
"Poland is all class, a model organization for softball in the area and an inspiration for us," Canfield manager Glenn Griswold. "I was concerned, but didn't panic when we fell behind by three runs in the opening inning because I knew that we still had six chances offensively and were hitting the ball pretty well."
Poland's Carlie Lattanzio opened the game with a double — the only extra base hit of the game — to propel her team to the early lead.
Griswold then decided to yank starting pitcher Caroline Griswold, his daughter, in favor of Maddison Johns. The move proved to be the winning prescription.
"They [Poland] already saw Caroline earlier in the tournament and when I see one of my pitchers lose their composure and get frustrated, it's time to make a change," he said. "We have five very capable pitchers on our staff and before the game I told Maddison [Johns] to be ready in case anyone gets in trouble.
"She proved that she was up to the challenge."
Canfield scored five unearned runs in the second inning on one hit to take the lead for good, 5-3. The Cardinals benefited from four Poland walks, two errors, four stolen bases and three wild pitches.
They added three more runs in each of the next two innings on just two hits for an 11-4 lead. Lattanzio led off Poland's fifth frame with a single, stole two bases and scored on a groundout for the game's final run.
Johns picked up the win in relief, going 5 2/3 innings while giving up just two runs on three hits. Afterward, she described the game as "one great, winning feeling."
"I felt confident out there the entire game because my changeup was working and I was able to keep them off-balance," she said. "Knowing that we are district champions is the greatest feeling that I have ever had after a game.
"This was a team effort, not an individual effort so please know how very proud I am of my team and the defense that they also provided me tonight."
Marsico said his Poland squad will now be Canfield's biggest cheerleaders.
"Canfield is doing a lot of the things that we have done in the past and we want them to carry the banner of District 2 as far as they can," he said. "We want them to advance and do just as well, if not better, than we did a season ago."