Youngstown cops seek residents to catch speeders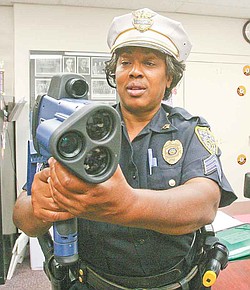 Photo
Youngstown Police Detective Sgt. Anita Davis demonstrates the laser radar gun with camera and video that Youngstown police plan to train residents to use. Police Chief Jimmy Hughes argues the new program will be more eff ective than placing warning signs about speeding in city neighborhoods.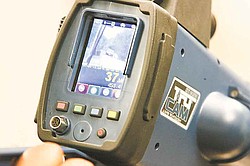 Photo
A select group of residents will be trained to use the laser radar gun with camera and video. Youngstown police plan to put several units in the hands of some block watch members and residents in an effort to curb speeding in residential neighborhoods.
YOUNGSTOWN
The Youngstown Police Department is looking for a few good men and women willing to take up arms and curb minor criminal activity throughout the city.
The minor crime in question is speeding, and the arms — camera-equipped radar guns.
The department needs at least 12 residents willing to undergo training and take to the streets to catch speeders.
Detective Sgt. Anita Davis said the department is ready to kick off its neighborhood speed-watch program. The department will train members of block watches and neighborhood associations to use the radar guns in areas where speeding has been a problem.
Davis said drivers often are unaware of their speed or the impact it has on the neighborhoods through which they are traveling.
The radar campaign, she said, will encourage motorists to slow down and send a message that residents will no longer tolerate excessive speed in their neighborhoods.
"This is a safety factor in getting people to reduce speed. People should be able to back out of their driveways, and kids should be able to play in the street without getting mowed down by speeding cars," Davis said.
Police Chief Jimmy Hughes said having residents out with radar guns monitoring traffic is better than placing a simple sign in a neighborhood asking drivers to slow down.
"This is another form of citizens' patrol. It is a public-relations thing for law-abiding people who live in these neighborhoods, drive normally and want to be involved," Hughes said.
Davis hopes to start the first training class sometime this month, but at least 12 volunteers are needed.
Participants would be trained in how to use the radar unit as well as how to collect information on a log form and verify the information collected.
Training will take about eight hours. At the end of the training session, volunteers will be given a radar unit to use while patrolling the streets and a bright-colored safety vest.
"The vests are highly visible, and drivers seeing those vests, knowing they will be clocked, will make people slow down. That is the whole goal here: to make people slow down," Davis said.
Information collected by the residents will not result in a ticket but will tell officers where additional enforcement is needed.
"The volunteers have no enforcement responsibilities at all," she said. "Their responsibility is to simply record the information and forward it to us."
Police are not planning to issue tickets immediately, either.
Motorists recorded speeding will receive a warning card from the department showing the time, date, location and rate of speed, but if a person is recorded speeding multiple times in a single location, police will be called out.
"Then we will no longer be issuing a warning," Davis said.
Police say calls for reduced speed in residential neighborhoods is the most frequent request from residents.
Davis said the six fatalities in the city this year is almost equal to the seven homicides recorded in the same period.
Though not every accident can be attributed to speed, she said reducing speed can be a big factor in reducing fatalities and serious injuries.
Interested volunteers should contact the police at 330-742-8926.